Rebel: Living to Please God
Sarah Hart, Singer/Songwriter
Tuesday, August 14, 2012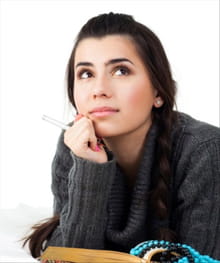 Editor's note: This article originally appeared on Worship Together. Used with permission.
When Jesus left the field, he entered their meeting place. There was a man there with a crippled hand. They said to Jesus, "Is it legal to heal on the Sabbath?" They were baiting him. He replied, "Is there a person here who, finding one of your lambs fallen into a ravine, wouldn't, even though it was a Sabbath, pull it out? Surely kindness to people is as legal as kindness to animals!" Then he said to the man, "Hold out your hand." He held it out and it was healed. The Pharisees walked out furious, sputtering about how they were going to ruin Jesus. –Matthew 12:9-14
I have felt more than a bit rebellious in my faith recently; unusual for me, but there you have it. Things prick at my conscience more than they used to. I feel overly sensitive to the politics and policies of our churches. I find my blood boiling at the various injustices that I see happening, and it takes more than one deep breath to calm me down. And in full confession, it sadly doesn't always lead me down a path of change, just a path of anger.
When faith begins to suddenly manifest itself in your walk this way, it is akin to jumping into Lake Michigan in January in a bikini. It's a shock to the system; a sudden cliff where once had been smoothly paved road. It is uncomfortable, terrifying, and very lonely.
This moment in Jesus' ministry is a sudden cliff. But our Lord, being our Lord, handles it beautifully. The people about him are buzzing with their "unacceptable"'s and "not on the Sabbath"'s and "don't you dare"'s. And Jesus says "pffffht." And he heals. It is rebellion at its finest.
But the trick is that this rebellion is not for the sake of rebellion itself. Or anger. Or oversensitivity. It is rebellion in the name of love. And Jesus knew he would be grievously judged for it. But he did it anyway.
In all things in life, we are constantly judged, right? Our motives and meanings are consistently coming into question. If we say how much we love our marriage, we are lying. If we go out to coffee with a member of the opposite sex, we are cheating. If we imbibe, we have a drinking problem. If we don't imbibe, we are bound by legalism. If we rarely visit with our parents, we are ungrateful. If we see our parents all the time, we are co-dependent. If we send our children to public school, we are not faithful enough. If we send them to private school, we are separatists. If we homeschool, we are just crazy. If we lead a committee at church, we only want attention. If we're not on a committee at church, we are lazy. And you can bet if you wear those sweatpants with the hole in the left cheek in public, you're going to wind up on "People of Wal-Mart". On and on and on. The state affairs of our beautiful-awful-judgmental-forgiven humanity.
Now, this is where my mother's voice comes booming in my ears: "honey, you can't please all the people all the time". I would venture a guess that you just read that, and heard it in your own mother's voice. It's truth of truths, passed on for many generations. I have said these words many times to my own kids and now add: "just please God."
Jesus knew he was about to displease a lot of people when he healed that day. In fact, likely everyone in the room, save the healed man. If we are seeking to please every single person under the sun in our lives and our faith, what a sad, fruitless effort it will be. It won't happen. There will always be naysaying, people telling you that you are doing it incorrectly. If you listen too deeply, you are only allowing the demons in, and sending the angels packing. Listening to the defeatists of the world over the soundness of the Holy Spirit in your own conscience leads to fear. And if we live in fear, it is difficult to live in love. God wants better from - and for - all of us.
Have something to say about this article? Leave your comment via Facebook below!
advertise with us
Example: "Gen 1:1" "John 3" "Moses" "trust"
Advanced Search
Listen to Your Favorite Pastors