Resist Fearing a Spouseless Future
Tim Laitinen, Crosswalk.com Contributing Writer
Tuesday, October 30, 2012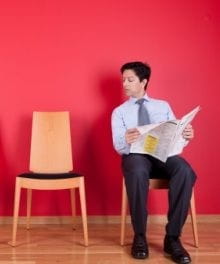 Fear can be a powerful motivator.
Whether you're single or married. Or considering marriage.
For single believers, fear of the future can represent a significant, even chronic factor affecting how we pursue relationships. What might our old age look like the longer we remain single?
People have jumped into relationships just to try and avoid answering that question.
The future can seem especially scary to singles not just because Social Security, traditional pensions, and even housing values have proven to be woefully unreliable. We're living longer, meaning that cancer, dementia, and other old-age diseases will become more common. Will we end up like old people we sometimes hear about, found alone days after they've passed away, after years of solitary decline?
We tend to look at married people and figure that as they age, regardless of their finances, or the size of our own extended families, they'll be better off than ourselves. Doesn't matrimony at least provides a built-in caregiver if we get sick, and double a family unit's earning potential to help pay for elder care? At least having a spouse will keep us from getting lonely, right?
Usually, somewhere in the middle of our pity party, God will graciously remind us that just because people are married, they have no right to expect a blissful old age any more or less than His beloved who don't have a spouse. Besides, in almost all marriages, one spouse will pass away first, leaving the other spouse alone, which means that as we age, singlehood becomes a relative concept.
Sound depressing? It doesn't have to. As followers of Christ, none of us are to fear the future in general, or old age specifically, no matter how grim it might look.
"Therefore do not worry about tomorrow, for tomorrow will worry about itself. Each day has enough trouble of its own" (Matthew 6:34).
"Therefore we will not fear, though the earth give way and the mountains fall into the heart of the sea, though its waters roar and foam and the mountains quake with their surging" (Psalms 46:2-3).
Our faith walk should be one of hope and promise, not fear and trepidation. These aren't simply religious platitudes; they're part of God's holy, inspired Gospel of Grace.
"Cast all your anxiety on Him [God], because He cares for you" (1 Peter 5:7).
"Those who hope in me will not be disappointed" (Isaiah 49:23b).
If you struggle with these fears about aging alone, you're actually not alone. Nor does the Bible ignore the topic. Naomi, for example, trusted God for her future, and ended up being part of Christ's lineage. Even Christ, dying for our sins on the cross, arranged for John to care for His aging mother.
It's natural to wonder what our old age might look like, and to a certain extent, God gives us wisdom to help plan for it. Making rational preparations for potential feasibilities is being prudent, not sinful. But since we can't possibly plan for every contingency, just like married people can't, we need to rely primarily, purposefully, and persistently on our Lord.
After all, "a man cannot discover anything about his future" (Ecclesiastes 7:14).
"Who of you by worrying can add a single hour to his life?" (Luke 12:25)
Have something to say about this article? Leave your comment via Facebook below!
advertise with us
Example: "Gen 1:1" "John 3" "Moses" "trust"
Advanced Search
Listen to Your Favorite Pastors