Resist Fearing a Spouseless Future
Tim Laitinen, Crosswalk.com Contributing Writer
Tuesday, October 30, 2012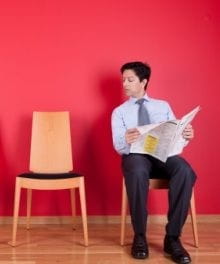 Even if medical theory suggests that we have a good chance of developing certain diseases based on our family's health history, we can adopt healthier lifestyles to try and mitigate those chances, but can't we do so without fearing them?
"Have I not commanded you? Be strong and courageous. Do not be terrified; do not be discouraged, for the LORD your God will be with you wherever you go" (Joshua 1:9).
"Do not be afraid of what you are about to suffer. I tell you, the devil will put some of you in prison to test you, and you will suffer persecution for ten days. Be faithful, even to the point of death, and I will give you the crown of life" (Revelation 2:10).
"For men are not cast off by the Lord forever. Though he brings grief, he will show compassion, so great is his unfailing love" (Lamentations 3:31-32).
"Though I walk in the midst of trouble, you preserve my life; you stretch out your hand against the anger of my foes, with your right hand you save me" (Psalms 138:7).
If we journey through life and its experiences by faith and not by sight, even if those things that we suspect may happen to us really do happen, we can have confidence in our Savior.
"Yet I am always with you; you hold me by my right hand. You guide me with your counsel, and afterward you will take me into glory. Whom have I in heaven but you? And earth has nothing I desire besides you. My flesh and my heart may fail, but God is the strength of my heart and my portion forever" (Psalms 73:23-26).
"For I know the plans I have for you,' declares the LORD, 'plans to prosper you and not to harm you, plans to give you hope and a future'" (Jeremiah 29:11).
"As a father has compassion on his children, so the LORD has compassion on those who fear him; for he knows how we are formed, he remembers that we are dust" (Psalms 103:13-14).
God knows what will happen to us as we age, and He already knows whether we'll be married in our old age, as well as any number of other contingencies that could surprise us – both negatively and positively – along the way. Our job isn't to anticipate whatever joys or challenges may be in store, but to wait on God's timing and His provision for us.
"Wait for the LORD; be strong and take heart and wait for the LORD" (Psalms 27:14).
"No one whose hope is in you will ever be put to shame" (Psalms 25:3a).
"Because the Sovereign LORD helps me, I will not be disgraced. Therefore have I set my face like flint, and I know I will not be put to shame" (Isaiah 50:7).
Sometimes we need to simply rest in God's truth, and allow His Holy Spirit to cultivate in our brain a proper perspective on the issues troubling us. Based on these truths and the peace that comes from them, we can find a freedom from fear's shackles. Yes, it may need periodic refreshening, since the Devil doesn't give up easily. But can't his evil persistence itself represent a testament to God's greater power and sovereignty?
Have something to say about this article? Leave your comment via Facebook below!
advertise with us
Example: "Gen 1:1" "John 3" "Moses" "trust"
Advanced Search
Listen to Your Favorite Pastors