Singles of Note: Rebecca St. James
Janet Chismar, Senior Editor, News & Culture
Wednesday, April 21, 2004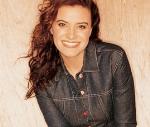 If you had to pick a single who epitomizes what it means to stand for Christ, the name Rebecca St. James quickly springs to mind. Often referred to as "the voice of her generation," the 26 year old consistently uses her platform to challenge young adults to stand boldly for purity.  Each night on the concert stage, in addition to issuing an altar call, Rebecca declares her commitment to virginity.

Her song, "Wait For Me," has become an anthem for abstinence as well as a number one single and video. Her book, "Wait For Me," is now in its sixth printing and has been translated into several languages for the international market. Rebecca has also authored two devotional books for young adults that have been top sellers – 40 Days With God and 40 More Days With God. She is currently working on a new book to be published this year.
When asked how she would encourage other young adults to remain strong in their convictions, Rebecca recommended beginning with the basics. "But, keep in mind, I'm definitely not perfect," she says, laughing.  "One of the first things I would persuade people of all ages to do in this area of standing for God is simply to start with a daily quiet time with Him. That is so essentially important."
Rebecca compares her relationship with God to any important love relationship: "If we invest in that relationship, it grows deeper. If we show vulnerability and love to that person, they will do the same in return."
It's like that with God, says Rebecca. When we invest time daily seeking Him, our relationship with Him moves forward. But if we neglect spending time with God, our relationship stagnates.
"You can only take a stand for somebody you know intimately," she adds.
On campus or in the workplace, says Rebecca, there are so many ways to stand for God. "With Christian friends, we can talk about our relationship with Him and encourage our friends to stand strong. Or, with non-Christian friends, we should be open to talking about our faith, even if it means they give us weird looks or think we're unusual."
According to Rebecca, it's all a matter of being led by His spirit and being sensitive to the stands He would have us make.
"Wait for Me"
Perhaps the hardest stand to take in an impure world is remaining pure until marriage. Rebecca says she feels troubled when people are flippant about sex. "They don't understand that sex needs to be respected. It is such a beautiful, wonderful, amazing thing within the bond and covenant of marriage, but it can also be a devastatingly, agonizing thing outside of marriage and I've seen that side. I've spoken to the people who have had sexually transmitted diseases who are married now, and it actually hurts to have sex because of what they did before marriage."
Have something to say about this article? Leave your comment via Facebook below!
advertise with us
Example: "Gen 1:1" "John 3" "Moses" "trust"
Advanced Search
Listen to Your Favorite Pastors