Singles Q&A: How to Find Freedom From Vanity
Carolyn McCulley, Author & Contributing Writer
Thursday, March 16, 2006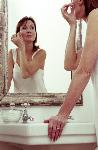 QUESTION: Where does contentment fit in with issues of looks and appearance?  I've been dealing with different bouts of discontentment with looks and my figure.  Eating too much, then too little, running and exercising, and just a general obsession that steals the joy out of my Christian life.  I'm thinking, "Hmm, should I eat more of this, less of this, exercise more?"  The problem is real and I'm not sure how Christ fits into this.  I wonder what freedom would look like?
CAROLYN:  I'm so glad that your question ended with that important perspective: Christ and the freedom He introduces as our Savior. Galatians 5:1 says, "For freedom Christ has set us free; stand firm therefore, and do not submit again to a yoke of slavery." What you've termed as a "general obsession" is actually slavery – the slavery of gratifying the desires of the flesh. Though you've raised this as a personal question, it is by no means a concern limited to only a few people. It is a condition that is common to everyone, and one that is all too familiar to me, as well.
Recently I saw a documentary that showed the extreme of this kind of slavery. It was about identical twins who were some of the most photographed women ten years ago. They were top models with everything we think should bring contentment and happiness: stellar looks, celebrities calling for dates, television interviews, and tons of media coverage. But they were in bondage to bulimia. They literally became recluses who refused to go out because their secret might be discovered. In fact, at one point they did a television interview in matching oversized jackets so that they could have their favorite snacks stuffed in the inside pockets. Just to be near the food, even if they couldn't eat it, was comforting. Obviously when they weren't binging, they were purging and exercising. Their entire lives revolved around food … literally. And it sucked the life out of them. They didn't even enjoy the fame, fortune, or celebrity access that our culture so highly prizes.
In other words, they were miserable slaves to their flesh.
Let's go back and look at Galatians for a moment. Chapter five, verses 16 to 24 (ESV) elaborate on the kind of freedom introduced in verse one:
But I say, walk by the Spirit, and you will not gratify the desires of the flesh.  For the desires of the flesh are against the Spirit, and the desires of the Spirit are against the flesh, for these are opposed to each other, to keep you from doing the things you want to do.  But if you are led by the Spirit, you are not under the law. Now the works of the flesh are evident:  sexual immorality, impurity, sensuality, idolatry, sorcery, enmity, strife, jealousy, fits of anger, rivalries, dissensions, divisions, envy, drunkenness, orgies, and things like these. I warn you, as I warned you before, that those who do such things will not inherit the kingdom of God. But the fruit of the Spirit is love, joy, peace, patience, kindness, goodness, faithfulness, gentleness, self-control; against such things there is no law. And those who belong to Christ Jesus have crucified the flesh with its passions and desires.
You asked where contentment fits in with the issue of appearance. Contentment is a result of receiving with joy God's gifts, assignments, and calling. It is a freedom to be others-oriented instead of beholden to what the Bible calls "fear of man" – the constant concern about what others think of us. If we sow to fear of man, the harvest we will reap is found in that passage above. It's a short walk from craving men's approval for our looks to indulging sensuality, impurity, and sexual immorality. On the flip side, fearing what others think of us quickly leads to enmity, strife, jealousy, fits of anger, rivalries, dissensions, divisions, and envy.
Have something to say about this article? Leave your comment via Facebook below!
advertise with us
Example: "Gen 1:1" "John 3" "Moses" "trust"
Advanced Search
Listen to Your Favorite Pastors