Singles Q&A: How to Find Freedom From Vanity
Carolyn McCulley, Author & Contributing Writer
Thursday, March 16, 2006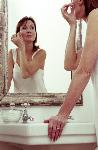 We don't have to live such sinful, contentious lives. Christ came to redeem us from this vicious cycle of sin and to give us the fruit of righteousness. Through the Holy Spirit, we do receive the fruit of self-control. So there is hope for living an orderly, disciplined life. But it is not a life lived for our own glory. It is a life lived for His glory. Any glory that we think we have is fleeting – most especially in our appearance.

But don't misunderstand me.
It's not wrong for a woman to adorn herself or seek to make herself attractive. What the Bible warns against is the excess that results in immodest or ostentatious displays, or an effort that becomes a life-consuming pursuit. The Hebrew word that is translated as vain in the phrase "charm is deceitful and beauty is vain" (Proverbs 31:30) is hebel, which means "emptiness or vanity, something transitory and unsatisfactory." This is the same word that permeates the book of Ecclesiastes. Ecclesiastes is an exploration of the meaning of life, but by the second chapter, the writer has concluded that pleasure, laughter, hard work, homes, gardens, herds, servants, gold and silver, and even wisdom are hebel! This overstatement is effective, because the writer goes on to call hebel "striving after the wind." Many good things are called hebel because we can't grasp true satisfaction from these items any more than we can grasp the wind. There's nothing wrong with these activities, but they won't provide the fulfillment we often seek to derive from them. In the same way, beauty is hebel. There's nothing inherently wrong with beauty, but the meaning and fulfillment we seek in it will elude us like the wind through our fingers – just as you are discovering.
In all seriousness, I believe that it's God's mercy that we fall apart as we get older. How humbling it is to end one's creaturely life dependent on others, unable to function as we once did, no longer as attractive as we were at our prime. It drives home the point that there is only One whose glory is unalterable. If that lesson didn't sink in as young adults, it will certainly sink in later. We might rail against it, we might work hard to hide the effects, but we won't change the immutable fact that "all flesh is like grass and all its glory like the flower of grass. The grass withers, and the flower falls, but the word of the Lord remains forever" (1 Peter 1:24-25).
So now let's consider what is eternally beautiful. While we have no description of what Jesus looked like when he lived on earth, the prophet Isaiah had foretold that He "had no beauty or majesty to attract us to him; nothing in his appearance that we should desire him" (Isaiah 53:2 NIV). The apostle John, however, had a vision of the ascended Lord, and He was both breathtakingly beautiful and terrifying in His grandeur:
I turned around to see the voice that was speaking to me. And when I turned I saw seven golden lampstands, and among the lampstands was someone "like a son of man," dressed in a robe reaching down to his feet and with a golden sash around his chest. His head and hair were white like wool, as white as snow, and his eyes were like blazing fire. His feet were like bronze glowing in a furnace, and his voice was like the sound of rushing waters. In his right hand he held seven stars, and out of his mouth came a sharp double-edged sword. His face was like the sun shining in all its brilliance. When I saw him, I fell at his feet as though dead. Then he placed his right hand on me and said: "Do not be afraid. I am the First and the Last. I am the Living One; I was dead, and behold I am alive for ever and ever! And I hold the keys of death and Hades" (Revelation 1:12-18 NIV).
Have something to say about this article? Leave your comment via Facebook below!
advertise with us
Example: "Gen 1:1" "John 3" "Moses" "trust"
Advanced Search
Listen to Your Favorite Pastors