Solo Zone: All in the Family
Tim Laitinen, Crosswalk.com Contributing Writer
Tuesday, August 24, 2010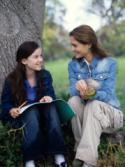 EDITOR'S NOTE: Each month in "Solo Zone" we will meet believers who have taken advantage of serious opportunities God has laid in their faith walks—and whose singleness actually works to their benefit, as well as God's glory.

Are you a single Christian waiting—even subconsciously—to get married for your adult life to truly begin?
Many of us have an intellectual understanding that, yes, our marital status does not define us. We leave school, we buy homes, and we participate in communities of faith. But how many of us have adopted the mindset that our reality won't really click until we have a spouse?
Singlehood certainly wasn't Patricia's life's ambition after graduating from college. Blonde and vivacious, she had her choice of suitors and married a young man fast-tracking his way to being a youth pastor. Maybe they wouldn't be the richest family in the world, at least in terms of finances. But love could make up for that.
Four years into their marriage, however, Patricia found herself signing divorce papers at the request of her husband, who had decided he was gay. Husbandless and childless, she resolved to trust in the Lord for solace, direction, and purpose, and moved out into a new singlehood for which nobody ever plans.
An Aunt's Intervention

As quickly as Patricia's marriage had turned dismal, so did the childhood of her niece, Natalie, who was only seven when her mother died suddenly of a brain aneurysm. Greg, Natalie's father and Patricia's older brother, used this tragedy to foment his distrust of God. United in grief and anger, Natalie and Greg struggled for years in a downward spiral of unmet spiritual needs, economic instability, and alcohol abuse. Although Natalie managed to matriculate to high school, she did so with the poorest of grades and a fragile vulnerability instilled by Greg's misery. Patricia knew few chances remained for her niece to salvage any chances for a healthy transition from childhood into adulthood.
While Greg had festered in bitterness after his wife's death, Patricia had moved on from her unsolicited divorce. She had a good job, owned a three-bedroom house, and developed a hectic volunteer life at her church. Although her marital status bothered her, it didn't control her. Patricia entrusted her desire to remarry and have a family to God, and devoted the time she would have spent as a wife and mother on ministry instead.
A couple of years ago, however, Patricia noticed the Lord leading her out of several long-standing commitments at church. At the time, it seemed counter-intuitive to her, since she assumed her singlehood offered the perfect opportunity for these activities. Then one night, after months of relatively minor incidents, Natalie's dysfunction crystallized for the family when she ran away from home. Patricia soon realized why God had been clearing her schedule.
Over that weekend of Natalie's cry for help, Patricia and her family decided major changes needed to be made in Natalie's environment. After prayers with a pastor at their church, discussions with church friends familiar with the situation, and an admittedly long-overdue heart-to-heart with her brother, Patricia knew what had to happen.
"This whole situation was just laying so heavily on my spirit," she recalls. "I know it was not me—God was telling me I need to take my niece in to live with me!"
"My mind was swirling," Patricia continues. "Looking back now, it's really neat to see how the Lord had been laying the groundwork for a while."
Have something to say about this article? Leave your comment via Facebook below!
advertise with us
Example: "Gen 1:1" "John 3" "Moses" "trust"
Advanced Search
Listen to Your Favorite Pastors