Sometimes We Just Need to Cut "It" Loose
Cliff Young, Crosswalk.com Contributing Writer
Tuesday, June 19, 2012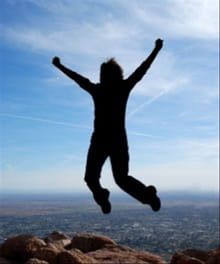 Have you ever responded to someone wanting to know how you were with, "Just hanging in there," "Down to the last strand," "Losing my grip" or "At the end of my rope"?
There are moments when I feel like I'm trying to do too much and other times when I'm not doing enough. I can't decide whether to continue struggling to hang on or to just let it all go.
After watching the opening scene of the movie Vertical Limit, I have a whole new perspective on this dilemma.
The movie opens with some breathtaking views of Monument Valley, Utah where a couple of skilled mountain climbers—a father, his son and daughter—are casually, but cautiously, making their way up the vertical face of a magnificent rock formation.
A couple of recreational climbers are scaling the same face above and off to the side of the trio when the two break loose from where they were attached and knock the other three off the rock, getting entangled with them. All five are momentarily dangling from a couple of camming devices (cam—a spring-loaded piece of equipment placed into a crack of a rock to provide a place where a climber's sling, carabiner and rope can be secured), until one fails and the two novices fall, leaving the trio hanging precariously by one last anchoring device.
When the daughter is unable to attach any further cams, their father, knowing one will not hold the weight of the three of them, implores his son, who is in the middle, to cut the rope holding him up (and pulling the other two down).
Reluctantly and despondently, his son obliges to save his life and the life of his sister.
This scene (or recurring dream of mine) vividly depicts my sentiments at times—dangling by a rope, ready to break loose, while being dragged down by the weight of so many other things in my life. I don't want to let go of those (seemingly good) "things", but I also don't want them to take me down.
Are there things in your life weighing on you? Are they vitally necessary or should you consider cutting them loose?
There is a time for everything, and a season for every activity under heaven: a right time to hold on and another to let go (Ecclesiastes 3:1-8).
If there was anyone who knew the importance of "letting go," it would be King Solomon. He had seven hundred wives and three hundred concubines, controlled the entire region west of the Euphrates, composed three hundred proverbs and 1005 songs, wrote the Song of Songs, Book of Proverbs and Ecclesiastes, built numerous temples and structures, and had more "things" than any of us could ever imagine.
Most of us don't have quite the responsibilities, distractions or possessions, nevertheless, we all have something in our lives we don't need to be spending our time on nor distracting our focus.
What should you consider letting go of today?
From the Past
Almost all of us have some baggage we're carrying around causing us angst from time to time; however, many treat these personal issues as ongoing current events. They may have been the result of a broken relationship, harsh words spoken about you, a cultural heritage, a betrayal of a trusted friend, or the lack of encouragement growing up.
Isaiah says in Isaiah 43:18: "Forget the former things; do not dwell on the past."
Whatever it is you've been dragging along for years, it's time to let it go.
I will forgive their sins and will no longer remember their wrongs (Hebrews 8:12).
Have something to say about this article? Leave your comment via Facebook below!
advertise with us
Example: "Gen 1:1" "John 3" "Moses" "trust"
Advanced Search
Listen to Your Favorite Pastors