The Danger of Dating in Your Mind
Carolyn McCulley, Author & Contributing Writer
Wednesday, September 21, 2005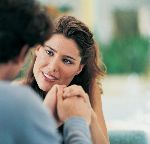 When I first read that diagnosis (in his book "Instruments in the Redeemer's Hands"), I was stunned. That's exactly what happens when I "date someone in my mind"! One sentence in particular screamed from the page: "There is a direct relationship between expectation and disappointment, and much of our disappointment in relationships is not because people have actually wronged us, but because they have failed to meet our expectations." These are self-induced dings to our hearts! Even more seriously, these acts are seeds we are sowing to future conflict in our own marriages. No husband will meet all of our desires, so we should learn to protect our own hearts and minds in Christ Jesus by not indulging this cycle of idolatry.
So how do we change? Here's something I've been meditating on over the past year. The secret is in the worth of a woman with noble character. The Bible says she is "more precious than jewels."  Jewels aren't out on the store's front counter for every passerby to carelessly handle. Precious jewels are guarded in the vault, and are only brought out for consideration by a buyer who has demonstrated serious intentions and the wherewithal to purchase. Costume jewelry attracts casual inspection – and lots of it – by its cheap presentation. But because it's not seen as valuable, it's not treated as such.
We don't have to put our affections and ourselves on display. We can trust our heavenly Father to ward off the casual shoppers and only bring those with serious intentions to consider us. But you need to know that this will mean some "vault time." While you're in the dark, wondering when -- and if -- you will have a chance to sparkle for an appreciative buyer, you'll be tested. During this time, keep in mind these three reminders:
Prayer:  Take your petitions to God, for He's the only one who can change a man's heart, and this brings His peace to guard our own hearts.
Pursuit:  It's not our job as women. Instead, we should have the joy of being pursued.
Prevent Disappointment:  Check yourself before you head down the slippery slope of desires, demands and expectations that Paul Tripp outlined. When you find your fist closing over good desires and making them demands, stop. Open that clenched fist and hold that desire up in prayer (see point one again).
We have to be very careful about guarding our own hearts. This is a wisdom issue. More importantly, it's a worship issue. The real motivation for guarding our hearts is not to be able to hand our husbands a relatively unscathed heart on our wedding day, as important as that is. The real motivation for guarding our hearts is to preserve our trusting dependence on God with a peaceful spirit, whether we get married or not. It's to keep a Scriptural imperative: "Keep your heart with all vigilance, for from it flow the springs of life" (Proverbs 4:23).

Carolyn McCulley handles church and ministry relations for Sovereign Grace Ministries and is a member of Covenant Life Church in Gaithersburg, MD.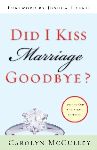 This column is adapted from her book, "Did I Kiss Marriage Goodbye? Trusting God with a Hope Deferred." (Used by permission of Crossway Books, a division of Good News Publishers, Wheaton, IL 60187, www.gnpcb.org). Carolyn welcomes your comments at info@carolynmcculley.com. Or visit her website (www.carolynmcculley.com) or blog (solofemininity.blogs.com).
Have something to say about this article? Leave your comment via Facebook below!
advertise with us
Example: "Gen 1:1" "John 3" "Moses" "trust"
Advanced Search
Listen to Your Favorite Pastors