The Fruit of a Healthy Relationship
Les Parrott & Neil Clark Warren, Authors
Tuesday, August 31, 2004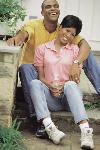 Every time you smile at someone, it is an action of love, a gift to that person, a beautiful thing. – Mother Teresa
With an understanding of how to find and read your social barometer, an exploration of social competency, and a study of the fine art of empathy, we want to leave you with a bit of inspiration.  We believe that inspiration goes a long way in helping you use your social barometer to engender self-giving love.
You'll remember that we've said who you are is more important than what you do.  This is particularly true in your relationships.  Tips and techniques can be helpful, but a relationship ultimately rests on the psychological health of two people.  In fact, your relationships can only be as healthy as the least healthy in them. 

So we will say it again: If you want a healthy relationship, the most important thing you can do is get yourself healthy.  And we know, because you are reading this, that's exactly what you are doing.  So with that in mind, we want to highlight the payoff for your efforts.  By recounting these payoffs to yourself on occasion, you will increase the likelihood of a more self-giving lifestyle.
When two healthy people (both tuned in to their social barometer) get together, it's like drinking lemonade in the desert.  They breathe a collective sigh.  They relax.  They can be who they are, and they know that just being together will restore their spirits. 

Why?  Because some things – what we call the fruit of a healthy relationship – are certain.  In a healthy relationship, you can count on, at the very least, these four qualities: confidentiality, honesty, personal space (when needed), and almost always a good laugh.
The best portion of a good man's life – his little, nameless, unremembered acts of kindness and love. – William Wordsworth
Fruit #1: Confidentiality
A Jewish publication ran an advertisement dominated by a drawing of a very stern-looking, bearded rabbi of the nineteenth century, the Chofetz Chaim, who wrote a book about gossip called Guard Your Tongue.  At the bottom of the page was a "hot-line" number to call anonymously if you have information about someone's potential marriage, business dealings, or whatever.  A rabbi at the other end will tell you whether your gossip is important enough to pass along.  If not, you are counseled to guard your tongue.
Interesting, isn't it?  The advertisement reveals as much about the state of our relationships as it does about our propensity for gossip.  Who among us hasn't been hurt by a broken confidence?  It usually begins when your friend says to someone: "You have to promise you won't tell Brenda I told you this because she made me swear not to tell anyone…"  It sounds very confidential.  But then why are they telling you the secret? They appear to be keeping a secret but aren't. 

Jesus understood this when he said, "Therefore whatever you have spoken in the dark will be heard in the light, and what you have spoken in the ear in inner rooms will be proclaimed on the housetops." 
Have something to say about this article? Leave your comment via Facebook below!
advertise with us
Example: "Gen 1:1" "John 3" "Moses" "trust"
Advanced Search
Listen to Your Favorite Pastors