The Relational Economy: Safe Deposit Boxes - Part 1
Hudson Russell Davis, Crosswalk.com Contributing Writer
Thursday, September 02, 2010

I am going to suggest something crazy, something that lacks market savvy and something that requires great faith. Go to the vault and get the box. Open it and bring out the real you. I make this suggestion because it is a travesty that sin—our sin, their sin, any sin—should direct our lives.
If you hide yourself, you will never grow to maturity. You will never know who you really are. You will never know who you could be if only all of you were available for the "renewing" and "transforming" God is so eager to work in you. Hiding parts of you in a safe deposit box not only delays your exposure to reality but hinders your own growth.
Again I say go to the vault and get the box.
Open it and bring out the real you.
Open it and enter the next relationship as the real you.
Open the box and be ALL you, all He has called you to be, all He has made you to be.
This is dangerous, but no investment is without risk. There is danger, but we are not left alone and not left without an advocate (Job 16:19; Romans 8:26-27; Hebrews 6:20). Even in our fear we must confess that the Father's love is great and "higher than the heavens (Psalms 108:4). His faithfulness, far from lying limp on the ground, "reaches to the skies" (Psalms 108:4). There is danger in this world but we trust in a God whose ways are "higher than [our] ways" (Isaiah 55:9). We trust in a God whose thoughts are higher than our thoughts (Isaiah 55:9).
We are not foolish but wise. We act but we act shrewdly. Being you does not mean entering relationship with carelessness. Paul tells us that we are to be "very careful … how [we] live—not as unwise but as wise" (Ephesians 5:15). The call to open the box is not a call to recklessness but wholeness.
You can hide your most tender and vulnerable parts in that safe deposit box but you may soon forget who you really are. Somewhere down the road (perhaps marriage) when you are ready to love and to give ALL of you—you may be too numb to turn that switch.
If you are good at hiding, you may just hide too well. You may come to believe that the partial you IS you. What a tragedy to conduct a relationship or even get married without having touched what is hidden inside that safe deposit box. If you do not know who you really are, no one else will.
There is grave danger in remaining open, and there is folly in being TOO open. There are levels of intimacy, and we do not bare all of who we are to everyone that comes along. I am not talking about opening your heart to the cutest or the most persistent.
We must be wise, but love demands ALL of us. Love! Risk! Hurt! and do it all again because that is living and that is how God made us. Anything else is not Christian. It is not even human.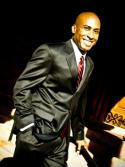 Hudson Russell Davis was born on a small Island in the West Indies called Dominica, and this is only one reason he does not like cold weather and loves guava. He is a graduate of James Madison University with a B.A. in Graphic Design and earned a Masters in Theology from Dallas Theological Seminary. Currently he is a Ph.D. candidate at Saint Louis University studying historical theology. Hudson has worked as a graphic artist and worship leader but expresses himself through poetry, prose, photography, and music. His activities are just about anything outdoors, but tennis is his current passion. He and his wife Rachel were married in 2009.
Got feedback? Send your comments and questions to Hudson at hudsondavis@streamsinthewilderness.com. If you don't hear back within a few days' time, please try again. Hudson would like to respond to all reader feedback.

Or become a fan of "Streams in the Wilderness" on Facebook here: Streams In The Wilderness

**This article first published on September 2, 2010.


Have something to say about this article? Leave your comment via Facebook below!
advertise with us
Example: "Gen 1:1" "John 3" "Moses" "trust"
Advanced Search
Listen to Your Favorite Pastors