The Single Woman's Home: A Mission Field
Carolyn McCulley, Author & Contributing Writer
Wednesday, December 13, 2006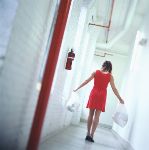 She is like the ships of the merchant; she brings her food from afar. She rises while it is yet night and provides food for her household and portions for her maidens.
— Proverbs 31:14-15
The dining table was draped with a festive Christmas tablecloth, and set with fine china and crystal, but my kitchen was a wreck.

Potato peels were strewn all over the floor, the butternut squash puree decorated uncharted realms of my kitchen counters, and dirty dishes were piled precariously in the sink. I stood in the midst of it all in my stained sweatshirt, with partially applied make-up. With one eye on the clock, I was cleaning at a feverish pace. I had 30 minutes to go – those critical last moments when the kitchen slave heroically morphs into a gracious hostess.
That's when the doorbell rang. Like a deer caught in the headlights, I surveyed my options. There was no way to pretend I was ready. "Who in the world shows up a half-hour early to a formal dinner?!" I complained aloud.
Opening the door, I saw two of my smiling guests, their breath evident in the chilly night air. Incredulous, I announced shrilly, "You're early!"
Their eyes widened with surprise as their smiles shrank. "I'm sorry," the man began abjectedly. "I, um, thought you said – or, um, I at least heard you say – that it started at six o'clock."
"No, I said six-thirty!" I replied anxiously, before looking back to the living room. "I suppose you could come in now, but I'd probably put you to work first."
"No, no – that's okay," he said quickly, backing down the sidewalk. "We'll just drive around and come back in thirty minutes."
When this couple returned (a safe forty minutes later!), they were greeted by a calm, smiling hostess in clean clothes and immediately ushered into a candlelit room to enjoy the fire by the twinkling Christmas tree. "I'm so sorry about my cranky kitchen maid – she was completely out of line," I told them. "You just can't get good help these days!"
Here's the moral of the story: Don't make your guests feel guilty when they show up at your door. It's the opposite of hospitable. (But I bet you guessed that by now.)
If you've ever tried entertaining as a single woman, you've no doubt felt that same wave of panic moments before your guests arrive. I have yet to successfully balance mingling with my guests and getting a warm, edible meal on the table in a timely way. We often eat at the late hour that fashionable Europeans do. I keep fine-tuning the process, but there's only so much advance prep I can do with the Bon Appetit recipes I love to cook. I'll start the cleaning and prep even a day ahead, and still rush around at the last moment. Over the years, however, I've learned my priorities needed to be corrected. But when push comes to shove, we're always better off to be gracious to the guests and cut corners on the food.
The Free-Range Gourmet
Proverbs 31:14-15 shows the effort that the virtuous woman makes to cook: "She is like the ships of the merchant; she brings her food from afar. She rises while it is yet night and provides food for her household and portions for her maidens." This wise woman ministers to many others from her home. She "is like the ships of the merchant" – ranging far and wide to obtain what she needs, but her focus is on her home and those who live and even serve there. It is a priority for her, so she rises while it is still dark to feed everyone.
Do you think "food from afar" is a pizza delivery? Do you ever range far and wide to find interesting items to cook – even for yourself? What does your kitchen pantry hold? A few cans of tuna and some cereal, perhaps? You may eat pre-packaged frozen meals when you are alone, but do you ever cook for others? If you were to get married in just a few months, would you have the skills to cook three meals a day every day for your family? Can you cook intuitively or do you have to rely on a recipe for most dishes?
Have something to say about this article? Leave your comment via Facebook below!
advertise with us
Example: "Gen 1:1" "John 3" "Moses" "trust"
Advanced Search
Listen to Your Favorite Pastors