The Single Woman's Home: A Mission Field
Carolyn McCulley, Author & Contributing Writer
Wednesday, December 13, 2006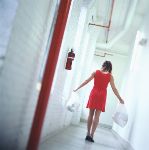 In our microwave society, you can easily feed yourself without much effort. People eat in their cars and at their desks, but rarely at home. It's not hard to find something to put down our throats as we run from event to event, but that's not what we see in our wonderful role model. She's not rummaging around the freezer looking for something to nuke and consume. She's making an effort because the kitchen table is the heart of the home.
We shouldn't wait until marriage is on the horizon to cultivate domesticity. In Titus 2:5, we find that older women are to train younger women to be "working at home." This is one of Scripture's commands to women. Period. Granted, this passage does assume that most women will be wives, but it also assumes that we need instruction to prepare for that role. We need training to love our husbands and love our children. We need to be taught how to be self-controlled, pure, working at home, and kind, as well as how to be submissive to our husbands. Single women are included in that training. We are to be trained in all aspects, even though we may not be called by God to fill those roles, immediately or ever. In that light, we're no less exempt from the charge to be working at home than we are from the commands to be self-controlled, pure, or kind.
Home, Sweet Mission Field
Why does Scripture put this emphasis on the home for women? Why does the paragon of feminine virtue in Proverbs 31 invest so much of her time and resources into her home and its residents? Because our homes are a mission field. As Alexander Strauch, author of "The Hospitality Commands," notes:
Lacking sacred temples or a special class of priests, the first-century Christians naturally made the home their base of operations. … Indeed, the first Christian congregations conducted all or most of their meetings in homes because they did not own buildings. This necessitated that some members of the congregation open their homes to provide places in which the church could meet. The home thus became a hub for evangelism and teaching. … For the early Christians, the home was the most natural setting for proclaiming Christ to their families, neighbors, and friends. The same is true today. If you and/or your local church are looking for ways to evangelize, opening your home is one of the best methods for reaching the lost. Most of us, however, are not using our homes as we should to reach our neighbors, friends, and relatives. Tragically, many of us don't even know our neighbors. Yet through hospitality, we can meet our neighbors and be a lighthouse in spiritually dark neighborhoods.
In fact, our ministry through our homes is so important that women are included in all four of the major "hospitality commands" in the New Testament:
Romans 12:13, written to all in the church at Rome, says: "Contribute to the needs of the saints and seek to show hospitality."

1 Timothy 5:9-10 is specifically written about widows who seek the charitable support of the church: "Let a widow be enrolled if she is not less than sixty years of age, having been the wife of one husband, and having a reputation for good works: if she has brought up children, has shown hospitality, has washed the feet of the saints, has cared for the afflicted, and has devoted herself to every good work."

Hebrews 13:2 commands all believers, "Do not neglect to show hospitality to strangers, for thereby some have entertained angels unawares."

1 Peter 4:9 was written to persecuted Christians scattered throughout Asia Minor: "Show hospitality to one another without grumbling."
Did you ever think of your home as an outpost for your church? You can use your home for a variety of ministry purposes – from inviting newcomers to lunch after the church service, to inviting your neighbors over for a Bible study, to celebrating milestones with your friends over dinner. Though it might be a little bit more work to do this as a single woman, it's quite possible to do – and let's not forget, it's fun. There's an immediate reward for hospitality in the relaxed smiles of our guests and their appreciation of our generosity.

People, Not Presentation
Have something to say about this article? Leave your comment via Facebook below!
advertise with us
Example: "Gen 1:1" "John 3" "Moses" "trust"
Advanced Search
Listen to Your Favorite Pastors