The Single Woman's Home: A Mission Field
Carolyn McCulley, Author & Contributing Writer
Wednesday, December 13, 2006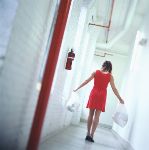 With Just a Little Bit of Practice …
If you need encouragement to cultivate your domestic skills, let me assure you that I was no Bon Appetit afficionado in my early single years! I lived on happy hour appetizers and fast food. My cooking was so bad that my family called it "fish wads and pudding lumps" – a nickname earned after a spectacularly bad Mother's Day meal. My apartment looked like New York City when the sanitation engineers go on strike. My home décor was early Goodwill with a touch of Target. No one around me ever talked about home and hearth, so I didn't give my lack any particular thought.
When I became a Christian, I noticed how much effort the ladies I knew put into their homes. Candles in the bathrooms! Real linen napkins! Matching dinner dishes! I felt like an anthropologist in a foreign culture. But it inspired me to do the same. In short order, I was buying furniture and clipping recipes. After a few years, I was bold enough to even throw elegant dinner parties for my pastors and their wives, which I enjoyed doing immensely.
If you want to grow in your hospitality or domesticity skills, here are a number of practical issues you can consider:
This is a great opportunity to pursue an "older woman" in the Titus 2 mentoring model. Consider the women around you. Whose homes do you enjoy visiting? Whose hospitality has blessed you? Ask these women to show you how they do it! Don't be shy to ask for training. It's honoring to these women that you want to emulate their examples.

Start small. Have friends over for coffee or tea, and conversation. It's not the meal you provide that makes a memory, it's the focus on your guests. Sometimes it's a lot easier to do that than when you don't have an elaborate meal planned.

If you're not a great cook, practice. I bet you'll find many supportive friends who would willingly consume your practice! A great basic cookbook to have is "The Joy of Cooking." It removes the mystery to cooking. I like "The New Basics Cookbook" for the same reason. It's also fun to take cooking classes with your friends, especially classes about international cuisine.

Don't be afraid to select patterns for your daily dishes or fine china. It's not a jinx! If the Lord gives you a husband, he might like what you already have. If not, you'll have fun selecting a pattern together. I chose a china pattern years ago, and my friends generously gave me select pieces at various times. Now I have place settings for ten. People enjoy knowing what you collect.

If you live with roommates, consider cooking for your household on a rotating basis. I have a set of friends who live in a townhouse they've nicknamed "The Abbey." Each week, one of the ladies cooks for the rest. Though their different work schedules often prevent them from eating together, they've agreed to set aside Monday Family Nights as a household priority — a time when they eat together and catch up on the news of the week. They also regularly plan for hospitalities.

If you live with your family, offer to be responsible for the family meals on certain days. My friend Mindy makes dinner once a week for her family — a blessing to her mother.

If you've moved around a lot and feel like no place is home, consider buying a home. Again, it's not a jinx! You can always sell it if you get married, and your profits will certainly bless your husband. Owning a home is usually a wise financial investment and it allows you to put down some roots and combat that lonely tumbleweed feeling. Often it is the only way you'll be able to create a guest room, too.

Create a memento of your guests. Some people use guest books; I take photographs. I have photo displays of most of the people who have been at my home. They are a useful diversion for my current guests when I'm caught in the kitchen!
Have something to say about this article? Leave your comment via Facebook below!
advertise with us
Example: "Gen 1:1" "John 3" "Moses" "trust"
Advanced Search
Listen to Your Favorite Pastors