The Women in Christ's Life: The Woman with No Stone Cast
Kris Swiatocho, The Singles Network Ministries
Wednesday, October 25, 2006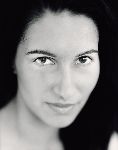 What, then, shall we say in response to this? If God is for us, who can be against us? He who did not spare his own Son, but gave him up for us all—how will he not also, along with him, graciously give us all things?
— Romans 8:31-32
2. There are consequences of my sin.
Although this woman did commit adultery, a sin with horrible consequences, Jesus' blood was still shed for it. Sin in itself is equal in the eyes of God. All of it separates us from him and is punishable by death. However, God's Word does teach us that there is a difference in consequences of our sin. Just because Jesus told her to go and not sin does not mean she didn't have to live with the consequences of her sin. I will have the consequences of some of my sin with me forever. That is the price I am paying for making some bad choices. However, God has given provision to me, to still live a life with joy and hope. That even in the midst of the storms, the valleys, He is there and is my rock.
He said: "The Lord is my rock, my fortress and my deliverer; my God is my rock, in whom I take refuge, my shield and the horn of my salvation. He is my stronghold, my refuge and my savior—from violent men you save me. I call to the Lord, who is worthy of praise, and I am saved from my enemies.
— 2 Samuel 22:2-4

For the wages of sin is death, but the gift of God is eternal life in Christ Jesus our Lord.
— Romans 6:23
3. Jesus wants us not to judge.
So many times I have judged others. I am not saying that we don't need to hold believers accountable, but many times I have made assumptions about people when I had no idea of the truth. Recently I took a trip to Memphis. I was in a store and saw a woman with dreadlocks, strange clothes, thick black eyeliner, tons of jewelry. My first thought was she obviously doesn't know the Lord. I also had decided to not try and talk with her, as I was sure she would not be receptive. As we were pushing our carts she noticed my cart was filled to the top with supplies. She asked me if I was going to have a party. I said no and realized God wanted me to talk with her. I shared with her I was in town to teach at a local church. She then piped up with enthusiasm and said her father was a pastor at church down the road and that she and her brother sing in the choir. I was like, huh? Boy had I been wrong in my judgement. We talked for some time only to realize that she knew a friend of mine living in the same city who not only went to her church, but this woman also cut her hair. To this day, this story haunts me as it reminds me to not judge. I am so glad that Jesus set the example first.
Be merciful, just as your Father is merciful. "Do not judge, and you will not be judged. Do not condemn, and you will not be condemned. Forgive, and you will be forgiven. Give, and it will be given to you. A good measure, pressed down, shaken together and running over, will be poured into your lap. For with the measure you use, it will be measured to you."
— Luke 6:36-38
4. Jesus wants us to look at our own sin first.
Jesus asked if anyone else had never sinned that he was more than welcome to cast the first stone as this woman. Wow, can you imagine the thoughts of these men? Even in their pharisaic lifestyles of rules, they had to admit they were sinners. However, here is the clincher. Jesus not only wants us to look at our sin first, but to turn from it. He wants us to make changes in our lives so that we can stop sinning. He wants us to grow to be more like Him. With this woman it was a simple comment: "Go and sin no more". Sure that might seem easy for her, but we all know it's not. But Christ still ask it of us each day. The only way to stay in Him is to stay in Him.
"Why do you look at the speck of sawdust in your brother's eye and pay no attention to the plank in your own eye? How can you say to your brother, 'Brother, let me take the speck out of your eye,' when you yourself fail to see the plank in your own eye? You hypocrite, first take the plank out of your eye, and then you will see clearly to remove the speck from your brother's eye.
— Luke 6:41-42
Have something to say about this article? Leave your comment via Facebook below!
advertise with us
Example: "Gen 1:1" "John 3" "Moses" "trust"
Advanced Search
Listen to Your Favorite Pastors