Trusting God with a Hope Deferred
Carolyn McCulley, Author & Contributing Writer
Monday, April 25, 2005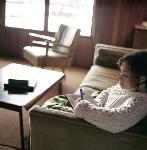 If you're single, you've got questions. I do, too.

How about … Do you trust God with your desire for marriage and intimacy? Do you pray with real faith, or are you resigned? Do you think your past failures ensure future disappointment? Do you think it's wrong to pray about such desires? Are you tired of talking to God with years of seemingly unanswered prayers? Could you scream because of all the conflicting advice you read about singleness these days?!
I don't ask these questions flippantly. I ask them soberly, tenderly, and with fresh wounds upon my own heart. And I would ask them of anyone who has an unfulfilled desire before the Lord. This is an age-old question. As Andrew Selle wrote in The Journal of Biblical Counseling, "The devil persuaded Eve that God was essentially untrustworthy and miserly. Don't let him play the same trick on you." Our spiritual enemy doesn't need a bunch of new tricks. The old ones have been working adequately enough since time immemorial — though, praise God, they are only temporary diversions for the people of God!
The tension we experience is in the gap between our prayers and our circumstances. We have a desire, yet it seems that in God's infinite purposes it is better that we wait on this desire to be fulfilled. It may be that we wait a certain time or that we wait indefinitely, finding out as we go that His grace truly is sufficient to sustain us. Either way, we can trust God with our desires because He is the perfect embodiment of steadfast loving-kindness and tender mercies to us. How do I know this, you might ask me in return? This is how He describes Himself throughout His Word — found in our infallible, live-giving, promise-infused Bibles. Here's a good word picture of this tension from Selle: "You have prayed for your greatest desires. … You have asked of God, and now you must trust Him and entrust your desires to Him. Imagine that you have lifted those objects of your desire to God, and He has received them and presently holds them. Now you must let go of them. Surrender them to God, your Father." Prayer puts our desires back into the hands of the One who can fulfill them, and they are kept safe there until the time is right in His perfect plan.

In the Meantime

While we have surrendered those desires for safekeeping, there is still a call upon us as followers of Christ to be fruitful in those seasons of waiting. Trust is an active verb.
This is the situation Jesus addressed in the parable of the talents (Matthew 25:14-30). Three servants each received a vast amount of money. One received five talents, a second received two talents, a third received one talent. The Bible notes that the master gave "to each according to his ability." Now a talent was a monetary unit worth about twenty years' wages for a laborer, so this master had been generous to all. But the third servant viewed this man as a harsh taskmaster. He took his one talent and hid his master's money in the ground. When his master returned, he expressed his great distrust: "Master, I knew you to be a hard man, reaping where you did not sow, and gathering where you scattered no seed, so I was afraid, and I went and hid your talent in the ground. Here you have what is yours." 
The third servant had a low view of his master — and perhaps even of what he had received in comparison to the other servants — so he made no effort to multiply his talent. An extended season of singleness can present a similar temptation. We can think God has given us very little, so we do nothing with it. Despising the "one talent" of singleness, we don't invest it to have something to show when He returns.  We don't try to multiply what He's bestowed; we ungratefully just put it in a hole in the ground, and sit down to have a pity party.
Have something to say about this article? Leave your comment via Facebook below!
advertise with us
Example: "Gen 1:1" "John 3" "Moses" "trust"
Advanced Search
Listen to Your Favorite Pastors