Turn Your Disappointments into a Miracle
Cliff Young, Crosswalk.com Contributing Writer
Tuesday, December 21, 2010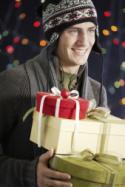 As I contemplate and prepare myself for another Christmas, I wonder what this season will bring for me, my friends and family, and for those around me. It's not surprising to find many of us facing continued hardships of a struggling economy, waning health and difficult (or non-existent) relationships, besides the typical "unknowns."
Just this week I received a couple of prayer requests, one from a mother battling multiple sclerosis (who may not survive until Christmas) and two others who have recently been diagnosed with cancer.
Isn't this the time of year when everyone is "supposed" to be happy, where wishes "come true," and everything turns out perfect (just like on the Hallmark and Lifetime channels)? Maybe that's why so many families head to Disneyland for the holidays, where it claims to be the "Happiest Place on Earth."
In many ways, this time of year seems to accentuate our sadness and disappointments more than it heals them. Maybe we just expect too much from the season.
Disappointment
Wikipedia.com defines disappointment as "the feeling of dissatisfaction that follows the failure of expectations to manifest" and The Encarta World English Dictionary defines expectation as "a confident belief or strong hope that a particular event will happen."
What I find interesting is how similar the "secular" definition of expectation is to the "biblical" definition of faith.
Faith is being sure of what we hope for and certain of what we do not see (Hebrews 11:1).
From the world's point of view, expectations are something we believe and hope will happen while from God's perspective, faith is being sure of what we hope for.
To expand a little further, expectations seem to be what we hope "we" (ourselves or others) can do (or have control in doing); while faith is believing what God is going to do. If our disappointment comes from the failure of somebody we believed in or put our trust in (including ourselves), maybe our expectations are placed more on "mankind" than on our faith in God.
This isn't to say we shouldn't have expectations for ourselves (or for others) or by having faith in God alone we won't ever be disappointed. There are many situations in life (and in death) where we may never understand the reason "why" things happen even with a strong faith, like the loss of a family member, a marriage breakup or a horrendous crime. However, faith is having the hope of being certain God is in control, believing he knows and loves us even in the worst of times and knowing his way is perfect (Psalms 18:30).
Hope
God had planned something better for us so that only together with us would they be made perfect (Hebrews 11:40).
If we continue to place all of our hope and expectations only in ourselves, naturally we will be disappointed. None of us are perfect nor can we expect to be. However, if we place our hope in God, "together" it will be made perfect.
Peter often had solid unwavering faith, hope and insight, while he was with Jesus.
Yet, many of us are quite aware of the time he wasn't.
Peter was more steadfast when he was with the Lord than when he was apart from him.
Have something to say about this article? Leave your comment via Facebook below!
advertise with us
Example: "Gen 1:1" "John 3" "Moses" "trust"
Advanced Search
Listen to Your Favorite Pastors