Vocation, Vocation, Vocation?
Cliff Young, Crosswalk.com Contributing Writer
Thursday, April 16, 2009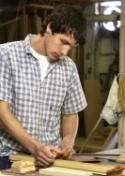 I was recently posed the question, "Do you believe that God impresses upon all of His children a vocational direction or to just a few?"
I found the question to be both intriguing and quite timely in the midst of our current economic downturn. It is an issue I have wrestled with at periods in my own life.
I have known what I wanted to do vocationally since I was 11 years old. Everything I studied focused on a career in the construction industry, which I have been a part of for twenty years. However, more recently God has opened doors for me into areas I would have never dreamed of, considered or desired.
I learned through some recent surveys most people do not work in a profession for which they were originally trained, the median number of years salaried workers stay with their employer is four, and at least half of all workers are dissatisfied with their jobs.
What this says to me is many people have not found the vocation they want to work in nor know what God has created them to do. In any case, continually realigning ourselves with the Lord will help us to discern the path that is His will. But how do we do this?
Know What You Value

I count all things to be loss in view of the surpassing value of knowing Christ Jesus my Lord. … (Philippians 3:8).
Our relationship with Christ should be first and foremost in our life. He is our moral and spiritual compass to which we (should) base all that we do. Without living out His foundational truths, everything would be immaterial (and only material).
From there, we need to ask ourselves what is most important in our life. Is it our family, financial security, our health, our home, a relationship, our iPhone?
Contrary to what we are often told and what we want to believe, our decisions will cost us something, ask Adam and Eve. It may be time, money, personal desires, material items, relationships, freedom, etc. Every choice we make has a price.
If family is most important, a flexible schedule may cost you advancement and higher pay.

If getting out of debt is most important, a second job may cost you time with family and rest.

If your health is most important, eating better and exercising may cost you money, time, and sacrifice.

If a relationship is most important, spending time together may cost you time with others and independence.
We ultimately spend our time on those things we value. What do you put your time and effort into and what do you want to put your time and effort into? What has God placed on your heart? Understanding what we value will lead us to where our heart is.
For where your treasure is, there your heart will be also (Luke 12:34).
Know How You View "Work"

You will sweat and work hard for your food (Genesis 3:19).
How we view "work" can determine whether we wake up each morning with the expectations of great things to come or approach it as a sentence for the rest of our lives.
Is work a job? Is the primary reason you get up each morning for the paycheck? Are you strictly motivated by the money you make (or can make)? Are you just trying to survive? If a better paying job came along, would you take it?
Is work a career? Are you on a corporate ladder, working to move into a higher position? Is your motivation the title, status or prospect of long-term employment? Are you in search of advancement?
Is work a calling? Do you genuinely put your heart and soul into the task itself? Are the results of your work just as, if not more, important than the financial or career advancement it provides? Is self-satisfaction what you seek from your job?
Have something to say about this article? Leave your comment via Facebook below!
advertise with us
Example: "Gen 1:1" "John 3" "Moses" "trust"
Advanced Search
Listen to Your Favorite Pastors