Vocation, Vocation, Vocation?
Cliff Young, Crosswalk.com Contributing Writer
Thursday, April 16, 2009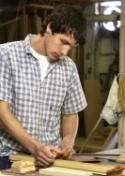 No view is right or wrong, nor is each view mutually exclusive of the others. Most of us desire some sort of compensation, recognition, and or purpose for what we do. However, the frustration and discontent we sometimes feel results from our own unrealized expectations.
When we are able to understand the role work plays in our lives, we can learn to accept it for what it is, and not try to make it into something it is not. Furthermore, if we approach our jobs as an opportunity to share Jesus (through our attitude and the excellence of our work), we will not only find satisfaction, but also excel.
Whatever you do, work at it with all your heart, as working for the Lord, not for men. (Colossians 3:23).
Know Who You Are
… to each according to each one's unique ability (Matthew 25:15).
We have all been blessed with skills and abilities, yet many of us never live up to our potential. Instead, we dream and long for something other than what we were created to do. I am reminded of this every season of American Idol, watching those who think they can sing face the reality of those who know they cannot.
This is not to say with hard work, determination, and practice we can't achieve our dreams. However there is a big difference between wanting to do something and having the abilities with which to do it.
Those who are most successful in their crafts seem to be those who have discovered their gifts, developed theirs skills and use them for purposes often outside of themselves. Their passion is their work.
Someone once said, "Do what you love and you will never work a day in your life."
King Solomon said it in another way:
A man can do nothing better than to eat and drink and find satisfaction in his work. This too, I see, is from the hand of God for without him, who can eat or find enjoyment? To the man who pleases him, God gives wisdom, knowledge and happiness (Ecclesiastes 2:24).
What is your passion? What do you enjoy doing ... working with people or working alone, traveling or staying at home, finding creative solutions or doing repetitive operations, working indoors or out? God created in us a specific code for each of us to succeed. Until we discover what that is, we will never live up to the potential God has for us.
The manifestation of the Spirit is given to every man to profit withal (1 Corinthians 12:7).
In construction, there are tools for every task imaginable, each one made for a precise purpose. Many times I don't have the tool I need, and I try to improvise with the one I have. Undoubtedly, it takes me longer to do the job, it doesn't turn out well, and oftentimes I injure myself in the process.
If I would have taken the time to find (and the money to purchase) the proper tool for the specific task, it would have made my job so much easier.
God created us in a similar way. By His grace, we are able to accomplish a variety of tasks; however there are specific jobs for which we are best suited.
By knowing what you value, how you view work, what your skills are and what you enjoy doing, you can better appreciate how God created you and for what purpose.
For some, it may mean working in "ministry," while for others it may mean working in order to minister. We may see what we do as the mundane; however we may be overlooking the opportunities for which God brought us to that situation. In order for us to move on, we need to complete the task and fulfill the purposes for which we were placed there.
Have something to say about this article? Leave your comment via Facebook below!
advertise with us
Example: "Gen 1:1" "John 3" "Moses" "trust"
Advanced Search
Listen to Your Favorite Pastors