Walking on the Water
Wendy Widder, Author
Wednesday, June 08, 2005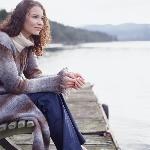 The struggles of singleness are real, and they are significant. Being single in a world designed by God for partnership brings pain. I fight the feelings of unsettledness, tempted to wonder if and when marriage will come. I cradle tiny babies in my arms, filled with wistful longings to have my own. I go solo to social events populated by couples and feel the all-too-familiar stabs of aloneness. I get weary of waking up to the furry face of Edward, my stuffed elephant. I tire of digging up dates to attend friends' weddings. I battle the loneliness of not having a constant, committed companion.
Trudging through the trenches of singleness takes perseverance. Sometimes it's perseverance generated by sheer obedience -- a gritted-teeth act of submission. I choose to believe that God has put me where I am at this point in time, and then I choose to live in obedience to Him. Like Noah, though, I'm not content to be yanked into line by the disciplinary hand of God. I'd rather hold that hand and walk in trust next to my Friend. I want to press on because I'm so in step with the Creator of the universe that walking a difficult road is an opportunity to sidle a little closer to Him, to hold His hand a little tighter.
God knows, however, that regardless of how much I want to walk with Him, there will be stretches of road when I'll loosen my grip on His hand. My walk with God will be more like a stumble or a flat-on-my-face fall. In those places on the journey, I'll tug on the leash and strain to have things my way, or I'll just sit down and stubbornly refuse to move.
It's in those times that I need to take a step back and remind myself of some really practical reasons why God might have routed the course this way. I'm not pretending to know the reasons why I'm still single, but I do know that even in the hardest of situations, God often gives tiny glimpses into some good things He's doing. Backing away and forcing myself to see the positive helps me press on. Some people call it the cloud's silver lining or the rose in the thorns. I think it's a whole lot more. I like to call it walking on the water.

Walking on the Water

In the darkest hours of a first-century night, twelve tired men struggled against the relentless waves of the Sea of Galilee. Water splashed over the sides of their battered fishing boat and sloshed around their ankles while they strained at the oars. They hung on and hoped to outlast the storm. Just when they thought the situation couldn't get any worse, it did. They looked up and saw it … either they were going to die in the storm, or they were going to be killed by the approaching ghost.
Give them a little credit. It had been a really long day, colored every shade of the emotional spectrum, and it wasn't over yet. Beginning with the bad news of John the Baptist's death, the day continued with throngs of thousands demanding attention, and it ended with an all-you-can-eat feast from a sack lunch. The disciples were undoubtedly exhausted, and then the storm hit in the middle of the lake. It's no wonder they thought they saw a ghost. Jesus' words, "It is I. Don't be afraid," awakened them from their nightmare, quelled their terror, and gave them cause to think they might make it through the storm after all.
But making it through the storm wasn't enough for Peter. He wasn't content to hang on to the sides of the boat, praying for the waves to die down. He didn't want to bail like crazy to keep the boat from sinking; there were eleven other guys doing that stuff. No, not Peter. "Lord, if it's you, … tell me to come to you on the water" (Matt. 14:28). Peter wanted to walk on the very waves that blasted against his boat.
Have something to say about this article? Leave your comment via Facebook below!
advertise with us
Example: "Gen 1:1" "John 3" "Moses" "trust"
Advanced Search
Listen to Your Favorite Pastors