What I Learned about Waiting on God while Selling My House
Barb Peil, Crosswalk.com Contributing Writer
Tuesday, November 13, 2012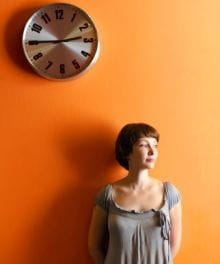 In those moments you are willing to say,
"Lord, I am willing to receive what You give;
To lack what You withhold; To relinquish what You take;
To suffer what You allow; To be what You require."
Hours before the horror of the Cross, Jesus said to His Father, "Luke 22:42." This is humility. This is also how Jesus Matthew 11:29 to a bunch of pride-weary disciples, "learn from me," He said, "for I am gentle and lowly in heart (humble), and you will find rest for your souls."
And that's exactly what you need when you're worn out from waiting—you need rest for your soul. God pours grace over the life of the one who says, "Lord, I am desperately dependent on You…"
Lesson #3: Always ask what else could He be doing?
When you're pounding on heaven's door with this one request you're so desperate to have answered, you forget that God may be doing something else in your situation. Something amazing that you never dreamed of...
When their brother Lazarus was desperately ill, Martha and Mary pounded on heaven's door with a life and death desperation. And God chose death. Their brother Lazarus died when Jesus intentionally delayed answering His dearest friends' cry for help. Seems like a really crazy choice.
They didn't mind telling Him so, too, when Jesus arrived four days later. "Lord, if you had been here, my brother would not have died" (John 11).
They kept hoping the Lord would show up and do something. But Jesus had something else in mind for Lazarus other than answering their specific request. Instead of just healing His friend, Jesus gave him a taste of heaven and then brought him back to life again. Wow…
I read this John 11 passage during my waiting experience and it made me ponder. Perhaps I had been short-sighted in all of this. What else could God be doing? I was asking for relief from a huge financial, mental, and emotional burden, but God wanted to do so much more in me. Should I be satisfied with a teaspoon if I knew the ocean was just out of view? Or be happy with a saltine when a feast has been prepared?
No, in the end I didn't just want relief, I wanted whatever God wanted for me.
God's delay deepened my faith. Having seen Him be faithful for a week, I found it easier to trust Him for ten days. Persisting in prayer after a month strengthened me to wait in faith for another month. This wait forced me to trust Him more.
I don't know the exact reason why God required that I wait. But here's what I'm sure of: He was faithful to me in the waiting. Because His purpose was to teach me and to not hurt me, He provided just enough manna day by day. Just enough cash delivered in small amounts. Just enough encouragement to help me breathe. Just enough hope to hold me back from the edge by my belt-loop.
One day when the months of waiting (and paying) had worn me to a frazzle, on the day when the house sale was finally going through, the realtor called and said, "We made a mistake. You need to send an additional $5000 for the deal to go through. All the paperwork is signed. Please transfer the funds immediately." What? $5000 more?
In that 11th hour when I had already resolved to lose money to get rid of the upside down house, it seemed like the final straw. Fighting pent-up tears, I ran from the office building and sat in my car in the parking garage and cried out: "What do I do, Lord? Do I let it foreclose? I thought You were finally providing for me but now do I have to deplete my savings to pay more? Please tell me what to do!"
Have something to say about this article? Leave your comment via Facebook below!
advertise with us
Example: "Gen 1:1" "John 3" "Moses" "trust"
Advanced Search
Listen to Your Favorite Pastors