What Your Actions (and Reactions) Say About You
Cliff Young, Crosswalk.com Contributing Writer
Thursday, August 30, 2012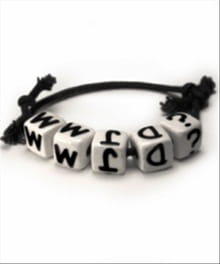 We ended up having a nice conversation and I was able to get the agent to smile a little by the time I was through. I probably didn't get my luggage any faster than the man ahead of me, but I didn't "leave a mark" on the agent nor give a bad impression of myself to anyone who may have been around.
I have heard it said a number of times, "If we profess to 'be' a Christian, we should 'act' like one." After much consideration, I have to wholeheartedly disagree.
The Free Dictionary defines "acting" as "temporarily assuming the duties or authority of."
Too many of us do "act" like a Christian when we're around other Christians, on Sunday mornings or with certain friends or colleagues. The problem arises when we are only temporarily assuming the duties of a Christian rather than being one.
If we truly believe in what we profess and say, we should be living it not just acting it out when others are around or when people may see us.
We try to live in such a way that no one will be hindered from finding the Lord by the way we act, and so no one can find fault with our ministry. 2 Corinthians 2:3
There have been many times over my Christian life I have been convicted of my actions where I have regretted not only for how I acted at that moment, but also for anyone who may have witnessed my actions knowing I was a Christian.
Professing to be a follower of Christ makes us as vulnerable in many ways as public figures in the limelight. Many people watch us closely to see if we are really who we say we are or who they expect us to be. There are some who are actually looking for us to fail so they would have an "excuse" for not following the Lord.
One of the most popular answers from non-believers as to why they don't want to accept Jesus into their life is because the Christians they know are hypocrites.
What we do and how we act in front of others does matter and it may be the only exposure to a Christian they have in their life, however it shouldn't be something we are "acting" out, but rather something we are "living" out.
Make sure the first impression you leave of Christ is a good one.
In everything set them an example by doing what is good. Titus 2:7
Cliff Young is a contributing writer to Sandlot Stories (arose books), as well as the monthly column, "he said-she said," in Crosswalk.com's Singles Channel. An architect and former youth worker, he now works with Christian musicians and consults for a number of Christian ministries. Got feedback? Send your comments and questions to cydmg@yahoo.com.
Publication date: August 30, 2012
Have something to say about this article? Leave your comment via Facebook below!
advertise with us
Example: "Gen 1:1" "John 3" "Moses" "trust"
Advanced Search
Listen to Your Favorite Pastors