When Fighting Cancer's Really Personal
Tim Laitinen, Crosswalk.com Contributing Writer
Tuesday, November 15, 2011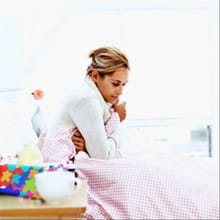 EDITOR'S NOTE: The following is the latest installment of Solo Zone, a monthly series focusing on believers who have taken advantage of serious opportunities God has laid in their faith walks—and whose singleness actually works to their benefit, as well as God's glory.

Anybody who fights cancer can be considered a hero—no matter how long that fight takes.
Or what it takes away.
And just as most cancer battles become personal struggles, think about how personal cancer gets when you don't have a spouse to help you fight it.
Granted, believers in Christ are never alone in any illness, whether it's cancer, dementia, or some other horrible disease. But marital status can't help but refine the experience, since "in sickness and in health" remains a vital component of, well, healthy marriages.
So, is there a difference in how single folks cope, since cancer is hard enough on married folks? Turns out, the answer may be like cancer itself: defined by the individual patient.
No Shadow of Turning
Take the experience of Charlotte Medley, for example. Office manager for a Dallas, Texas-based nonprofit, Medley was first diagnosed in 2004 with Ductal Carcinoma in Situ, a form of breast cancer.
"After conferring with my brother, who is a surgeon, I believed a mastectomy was the correct course of treatment, followed by five years of Tamoxifen," Medley recounts, describing how she evaluated her options after recovering from the initial shock and numbness upon hearing her diagnosis.
"Now, seven and a half years later, there is 'no evidence of disease', so my treatment seems to have been successful."
She was in her late 40s then, and teaching English at a private high school—a job which actually helped blunt some of the logistical challenges single cancer patients encounter in their treatment.
"I only missed nine days out of the classroom due to my surgery," she marvels, adding that since she didn't need chemotherapy or radiation, "I believe that I had the best kind of breast cancer, due to my high probability of 'cure' and slight down time. My challenging time was healing from the surgery in the first two weeks. Two months later at the beginning of my summer break, I underwent reconstructive surgery.
"Being single, I had no spouse to drive me, run errands, lift items above my shoulders. A girlfriend and my sister washed my hair during the first two weeks, and made sure I had food. My friends in general rose to the occasion and were available to me," Medley acknowledges appreciatively.
Her early experience with Tamoxifen, fortunately, went well. "I did not struggle with side effects as some do. However, I was told that although it would decrease my odds of having the same kind of cancer on the opposite side, it also could increase my odds of other types of cancer."
A scary thought!
"And, at my five year check-up with my surgeon, he informed me that they had learned enough new information about the effects of Tamoxifen that he would not have prescribed it for me had he known them then!"
Medley chuckles. "That was challenging!"
Still, all things considered, she has reason to be upbeat about the effectiveness of her treatment.
"My long-term prognosis is excellent. Yes, I might get cancer again, and that's not a happy thought, but I've faced it once—and my mortality!—so I hope I can be courageous again if required."
Have something to say about this article? Leave your comment via Facebook below!
advertise with us
Example: "Gen 1:1" "John 3" "Moses" "trust"
Advanced Search
Listen to Your Favorite Pastors