When Good Friends Marry Off
Connally Gilliam, Author
Wednesday, March 15, 2006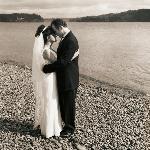 When good friends – male or female – get married, so much changes.

Just the other night, in a discussion about singleness as an unexpected way of life, one 27-year-old woman commented, "Each time a close friend gets married, my whole relational framework morphs. My social life is affected because that person is less available. So – goodbye spontaneous Saturday night movie fests or ice cream runs. She (or he) now has a new and permanent primary relationship, and I know I am secondary."
Letting go is never easy under any circumstances, but I think it feels more difficult when it seems like you're letting someone go toward more and you are being left behind with less. (Though friends in difficult marriages remind me that sometimes less is more.) In any case, what other choice is there besides letting go? Getting angry? Getting clingy? Getting detached? Throwing a self-pity party to be beat all pity parties? There are elements of short-term pleasure in each, but none of them will do the real trick: i.e., keep the loss at bay. Nope, letting go with grace is the only way forward.
What does it look like, letting go with grace? I imagine that there are many manifestations, but I think it can look a little like this: being willing to face the ugly, empty, scared parts of your own soul – no matter how ridiculous or embarrassing – and naming them aloud. Usually for me, this sounds something like telling God and a friend, "I'm insanely jealous and feel highly ripped off and left out."
Then there's asking for the help to change. Maybe even wrestling with God, and your own soul, long and hard enough until he blesses with you with the capacity to say honestly and joyfully to a dear friend, "Congratulations! I am so happy for you!" And sometimes, along the way, you might just need to march forward with a little pain.
I remember coming home to my house late one evening, noticing it was pitch black but that my roommate's soon-to-be-fiancé's car was out front. A sinking feeling came over me. One can only walk into a dark house with one's roommate and boyfriend cuddled up on the couch in front of the fireplace so many times without starting to feel a bit third-wheely at best, or nauseated at worst. Taking a deep breath, I reached for the handle of my car door and then froze. I couldn't get out of my car and go in that house. My heart couldn't take watching Ryan's hand gently caress Dana's as the two of them otherwise graciously attempted to converse with me. Somehow, though our conversation was real enough, each of his curlicue finger motions on her forearm was like a screaming reminder of my own intimate love gaps. And that maxed out my pain-O-meter.
But I didn't want to sleep in my car, and my bed was in that house. So, feeling like an idiot, I called a friend, explained the situation, and declared, "Jeannie, you have to pray me through the door." She, with great understanding, obliged, and a few minutes later I left my car and, with much banging and clanging, let myself in the front door.
Maybe this is not so much a picture of letting go with grace – which somehow connotes effortless, decorous ease – as much as it's an image of letting go by grace, which isn't always pretty. Only Someone bigger than I am got me inside that door and able to genuinely engage with Dana and Ryan. Only Someone bigger than I am could keep me from being a royal snot, from copping an attitude of vague disdain toward their shared tenderness. Only Someone bigger than I am could enable me to know in my gut, "This is a good gift my friend has been given. Let her enjoy her gift." I've needed that grace in the crevices of my soul where the temptation to cling and control relentlessly resides.
Have something to say about this article? Leave your comment via Facebook below!
advertise with us
Example: "Gen 1:1" "John 3" "Moses" "trust"
Advanced Search
Listen to Your Favorite Pastors