Who Are We Trying to Please?
Michelle Graham, Author
Thursday, June 02, 2005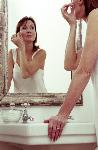 Then I passed by and saw you kicking about in your blood, and as you lay there in your blood I said to you, "Live!"  I made you grow like a plant of the field.  You grew up and developed and became the most beautiful of jewels.  Your breasts were formed and your hair grew, you who were naked and bare. (vv.6-7)
Is the story sounding familiar so far?  Those of us who have experienced Jesus' saving grace remember the feeling of being headed toward death.  We too were helpless in a harsh and broken world.  And we have fallen in love with a God who went searching for us, who swooped in to save us from our own death sentence and has taken us into his home.  He has nourished us, healed us and helped us to grow into women who reflect his beauty.
This is a picture of a God who adores us.  It is a God who is deeply in love with us.
Later I passed by, and when I looked at you and saw that you were old enough for love, I spread the corner of my garment over you and covered your nakedness.  I gave you my solemn oath and entered into a covenant with you, declares the Sovereign LORD, and you became mine (v. 8)
It's a fulfillment of the romantic dreams that we women are so obsessed with.  Reality TV is making millions off shows that involve people finding their perfect match and falling in love – well, supposedly.  Turn on The Learning Channel and you'll find endless episodes of "The Dating Story" and "The Wedding Story," followed by "The Baby Story" – none of which could happen, presumably, without a preceding "Makeover Story."  (What do you think we're "learning" from that?)  Christian fiction is filled with our church version of love connections.  We long to find perfect romantic love – to be cherished, pursued, adored.  In Ezekiel, God reveals his intentions to sweep us off our feet with such intense love that we pledge "to love and to cherish" one another the rest of our days.
The story goes on to tell of God's love for the girl and his lavish care for her.
I bathed you with water and washed the blood from you and put ointments on you.  I clothed you with an embroidered dress and put leather sandals on you.  I dressed you in fine linen and covered you with costly garments.  I adorned you with jewelry:  I put bracelets on your arms and a necklace around your neck, and I put a ring on your nose, earrings on your ears and a beautiful crown on your head.  So you were adorned with gold and silver; your clothes were of fine linen and costly fabric and embroidered cloth.  Your food was fine flour, honey and olive oil.  You became very beautiful and rose to be a queen.  And your fame spread among the nations on account of your beauty, because the splendor I had given you made your beauty perfect, declares the Sovereign LORD. (vv. 9-14)
God spared no expense in making us who we are today.  From the moment we began a relationship with him, the Holy Spirit has been in a process of transforming us into perfection.  Part of God's purpose for me daily is to mold me, refine me and make me into a head-turning beauty.
This is also true of our physical bodies.  As the story recounts, God chooses the finest materials, foods and jewelry to make this girl into a beauty queen.  He has done the same for us.  The hair he gave me is a beautiful crown.  My arms, my neck, my nose and my ears – they are like precious jewels.  My skin type and body shape are woven together like the costliest fabric.  My genes are nourished to fruition by culinary delicacies.  God is impassioned when he declares, "The splendor I had given you made your beauty perfect."
Let that sink in.  No, really.  Do we believe it?  God drew on his own splendor to create my body.  Every single part was chosen for me from the most priceless of treasures – including the parts I would rather trade in for a better model.  And when God steps back to look at the full picture, he deems my beauty perfect.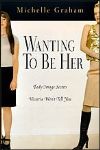 Taken from "Wanting to Be Her" by Michelle Graham. Copyright © 2005 by Michelle Graham. Used with permission of InterVarsity Press, P.O. Box 1400, Downers Grove, IL 60515. www.ivpress.com
Michelle Graham is a campus staff member and popular speaker with InterVarsity Christian Fellowship, serving students at Northern Illinois University in Dekalb, Illinois.
Have something to say about this article? Leave your comment via Facebook below!
advertise with us
Example: "Gen 1:1" "John 3" "Moses" "trust"
Advanced Search
Listen to Your Favorite Pastors