Why Are You Single?
Kris Swiatocho, The Singles Network Ministries
Thursday, March 15, 2012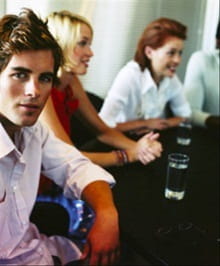 "I know why I am single. I'm selfish," said one of the folks at my last speaking event. It was a Friday night in Salisbury, North Carolina. I was speaking at a church on Jesus, Single Like Me material.

Before I speak, I love to sit with folks during the meal time to get to know them better. As usual the questions come up of where I am from, who they think I might know, if I have been married, do I have kids and so on. Then out of nowhere a new question came up. "So Kris, why are YOU single?" I was like, "What? Why am I single?" Hmmm, I had never really thought of that question. I mean, I do hear from the various older ladies at church, friends who have gotten married and of course my mom at times of why am I STILL single, but never the general question of "Why I am single?"

So before I answered the question of an anxiously awaiting audience at my table, I turned the question around and ask them first. I was simply amazed at the answers they came up with. As I listened to each person, I knew I needed to share their answers. I don't think I realized there would be so many and they would vary so much. Maybe their answers will help to answer your own. Maybe their answers will affirm what God is doing in your life. Maybe their answers will convict you of what you need to be doing. So you be the judge. . . .

"So why are you single?" I asked.

Susie: "To be quite simple, I am selfish. I like to have my way about everything, and a man just does not fit in my life. I know it's not the greatest attribute, but it is simply where I am right now."

As I was listening to Susie, I could not help to think of what had happened in her life to make her so selfish. As a child or even adult had she had things taken from her? Was it just old-fashioned sin? I mean, as a Christian, how could she be OK with her answer? How could she not want to work on this area of her life? Or perhaps, her selfishness was used as an excuse or barrier to form true and meaningful relationships. Nevertheless, I continued to listen and interceded with prayer.

The Lord tell us how important it is to turn our hearts and our lives towards him. That as we focus on him, and value others above ourselves, our relationship grows stronger with the Lord. As we grow stronger in Christ, we are able to deal/reject the junk, the pain, the hurt, and the sin that comes our way.

Turn my heart toward your statutes and not toward selfish gain (Psalms 119:36).

Do nothing out of selfish ambition or vain conceit. Rather, in humility value others above yourselves (Philippians 2:3).

Joe: "I lost my wife to cancer. I hated being alone. I was so lonely. I started to date but I guess I expected too much too soon. I was rejected over and over. I think it's best for me to just stay single and not get hurt anymore."

As I listened to Joe, I knew firsthand what he was saying. Even though I had not lost a spouse or have had a divorce, I had two engagements to end not to mention other broken relationships. I know what relational pain is and how it can keeps you from developing new relationships. My concern for Joe was how quickly he may have started dating after his wife's death. Maybe the rejections were due to how others perceived him. Perhaps they could tell he was still grieving. Joe needs time to heal, to rest in the Lord. He needs to focus on building friendships of all kinds, allowing God to tell him the next step. He also needs to be involved with serving others so the focus is on others versus himself. I know the more I am working for the Lord, surrounded by my Christian friends, the less lonely I feel.

God tells us in his Word the value of taking the time to rest, to heal before moving on. We can't get clear direction or peace if our vision is foggy. We also cannot pour out of an empty vessel. We have to go to the source that gives us the strength to endure whatever God has allowed us to go through—strength that will eventually allow us to pour into others again, to have the relationship God wants.

"Come to me, all you who are weary and burdened, and I will give you rest" (Matthew 11:28).

The widow who is really in need and left all alone puts her hope in God and continues night and day to pray and to ask God for help (1 Timothy 5:5).
Have something to say about this article? Leave your comment via Facebook below!
advertise with us
Example: "Gen 1:1" "John 3" "Moses" "trust"
Advanced Search
Listen to Your Favorite Pastors