Why Dating?
Gary Chapman, Author
Tuesday, December 21, 2004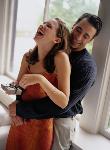 Jenny, a very reserved, almost shy single, did not date in high school and only dated twice in college.  However, upon graduation and landing her first job, she began to attend a singles group in a local church.  She took the opportunity to go out for dessert with a smaller group and in this context met Brent.  They had been dating for three months when Jenny said to me, "I don't know why I waited so long to start dating.  It feels so good to be getting to know someone else and letting him know me."  Jenny has taken a giant step in getting to know people as persons.
Seeing Our Strengths and Weaknesses
A second purpose of dating is to aid in the development of one's own personality.  All of us are in process.  Someone has suggested that we ought to wear signs around our necks reading "Under construction."
As we relate to others in the dating context, we begin to see various personality traits exhibited.  This provokes healthy self-analysis and brings greater self-understanding.  We recognized that some traits are more desirable than others.  We come to see our own strength and weaknesses.  The knowledge of a weakness is the first step toward growth.
The fact is all of us have strengths and weaknesses in our personalities.  None of us is perfect.  Maturity is not flawlessness.  However, we are never to be satisfied with our present status of development.  If we are overly withdrawn we cannot minister freely to others.  If, on the other hand, we are overly talkative we may overwhelm those whom we would help.  Relating to those of the opposite sex in a dating relationship has a way of letting us see ourselves and cooperate in God's plan for growth for our lives.
A number of years ago a very talkative young man said to me, "I never realized how obnoxious I must be until I dated Sally.  She talks all the time, and it drives me batty."  The light had dawned; his eyes were opened.  He saw in Sally his own weakness and was mature enough to take steps toward growth.
For him this meant curbing his speech and developing his listening skills, a prescription written in the first century by one of the apostles in the Christian church.  "My dear brothers, take note of this:  Everyone should be quick to listen, slow to speak and slow to become angry."3  What we dislike in others is often a weakness in our own lives.  Dating can help us see ourselves realistically.
Changing personality weaknesses is not always easy.  Jenny, whom we met earlier, realized that her shyness was detrimental in building relationships with others.  Upon graduation from college, she decided to get personal counseling.  It was here that she gained insight and encouragement to take steps in the right direction.  The first of those was to attend a singles group at a local church.  The second was to push herself to go out with a smaller group for dessert.  What was more difficult for Jenny was learning how to share her ideas in that small group, to talk about herself and let people know about her college experience and her present vocation.
It took about six months for her to develop the courage to ask Brent over for dinner, which was the first step in developing their relationship.  Once they started dating, Jenny sensed that Brent was someone she could trust.  With encouragement from her counselor, she began to share with Brent the details of her history.  His interest in listening encouraged her to proceed.  In the early stages, her counselor encouraged her to write down the things that she would tell Brent that night and the questions she would ask him about his life.  By writing it down beforehand, Jenny had the courage to follow through.  Change takes effort, but it is effort well invested.
Practice in Serving Others
Have something to say about this article? Leave your comment via Facebook below!
advertise with us
Example: "Gen 1:1" "John 3" "Moses" "trust"
Advanced Search
Listen to Your Favorite Pastors