Dump Burdens So You Can Pursue Dreams
Charles E. Blake, Sr., Guest author
Wednesday, January 17, 2001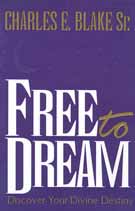 I wonder what would happen if God's people would say to Him, "What You want we want, and we don't want anything that You don't want us to have." The result would be that situations we thought we were locked into would become springboards to our greatest successes. Our lowest moments would give way to our highest achievements. If we were to unburden ourselves of anything that God does not want us carrying, we might find ourselves light enough to fly over the walls of the prison we've made for ourselves.
"Let us lay aside every weight, and the sin which so easily ensnares us, and let us run with endurance the race that is set before us, looking unto Jesus, the author and finisher of our faith, who for the joy that was set before Him endured the cross, despising its shame, and has sat down at the right hand of the throne of God" (Hebrews 12:1-2).
Several years ago the staff of our church, West Angeles Church of God in Christ, was confronted by a significant problem. We had accumulated so many documents - letters, old bills, records, memos, financial documents, forms, and almost every other kind of document - that our organization was almost paralyzed. We had run out of storage space. Desks and file cabinets were filled and overflowing. Table and cabinet tops had stacks of paper piled on top of them. So many unnecessary documents took up space that we had trouble finding the documents we really needed. This jeopardized progress and effectiveness. To deal with this situation, I announced what is now a periodic institution within our organization: Dump Day.
On Dump Day, we usually close the office to the public, put volunteers on the phone lines, request that the staff cancel all outside appointments, and we dress in old clothes and tennis shoes. We order extra trash bins, paper shredders, and large plastic bags, and we dump or throw away hundreds if not thousands of pounds of paper, empty ballpoint pens, antiquated and broken equipment, and everything else that might hinder us from reaching a higher level of effectiveness as an organization. We have found that "stuff" routinely piles up on us, but it does not routinely get dumped. Therefore, from time to time, we have to call everything else to a halt and have a Dump Day. Our motto for the day is, "When in doubt, dump it."
On a recent Dump Day, as I was stepping over a huge pile of paper I had removed from my desk, I was strongly impressed - I believe by the Lord - that Dump Days should be instituted by many organizations, groups, households, and individuals. Some folk need to have a Dump Day for their yards. Say good-bye to old cars that will never run again, old chairs that will injure you if you try to sit in them, old couches that stray dogs or cats have been sleeping on. Have a Dump Day for the yard.
Other folk need a Dump Day for the inside of their houses. In fact, let's talk about your closet. You've got stuff in there that you have not worn in 10 years. Dump it! Outfits from the '60s, thick-soled shoes, bell-bottom pants, and other stuff that belongs in a museum. Dump it! You've got stuff that you haven't been able to wedge yourself into since you were 25, and if you actually got in them, paramedics would have to come and cut you out! You've got stuff in there that, if you wore it, folk would know that you are way older than you say you are, so dump it!
What about the kitchen? If you open a box and it's moving, dump it. That flour and meal that you bought five years ago, knowing that you don't make anything from scratch, needs to go. If the top of the can is rusty and dusty, dump it. If scientists come to your refrigerator to study the growth of strange new life forms, dump it!
If there is so much junk in the house that you feel you're wading instead of walking, then you need to have a Dump Day. Old magazines, newspapers, and catalogs that you'll never read again or that you never read in the first place should be dumped!
Some old folk need to have a Dump Day because they are living in the past. Some young folk need to have a Dump Day because they are loaded down with foolish stuff. White folk, black folk, men, women, those in between, Democrats, Republicans, whatever group you may name; there is a universal need to occasionally have a Dump Day.
Now let's focus on the individual who desires to reach their God-given dreams, but they are locked into destructive patterns of thinking and behavior. As Christians, we all need to have regular Dump Days! There are plenty of things in our minds, our souls, our spirits, and our relationships that need to be dumped because they prevent us from moving closer to God and reaching for our dreams.
I'm reminded of the Asian monkey trap that is nothing more than a heavy pot with a narrow neck. A peanut is placed inside the pot to lure the monkey. The monkey's hand can reach into the pot, but when he grabs the peanut, his fist becomes too big to come back out. The pot is too big to carry away, so the monkey is stuck unless he dumps the peanut. Most monkeys are too hardheaded to let go, and they stay trapped.
Before we laugh at the stupid monkey, think of the things that trap us because we won't let go! To attain our God-given dreams, we need to let go and lay aside every weight, and the sin which so easily ensnares us. Why? So we can run with endurance the race that is set before us. (See Hebrews 12:1).
Someone who runs with a backpack full of rocks is at a disadvantage to a runner who has laid aside every weight. Yet we voluntarily try to run toward our dreams with a load a stuff that's holding us back and slowing us down. Dump it!
Have something to say about this article? Leave your comment via Facebook below!
advertise with us
Example: "Gen 1:1" "John 3" "Moses" "trust"
Advanced Search
Listen to Your Favorite Pastors