How to Create Vibrant Relationships While Parenting Young Children
Whitney Hopler, Crosswalk.com Contributing Writer
Monday, July 02, 2012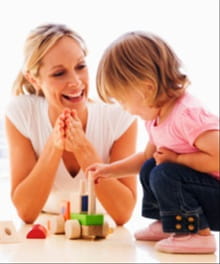 Editor's note: The following is a report on the practical applications of Tracey Bianchi's new book, Mom Connection: Creating Vibrant Relationships in the Midst of Motherhood (Revell, Baker Publishing Group, 2012).
If you're the parent of young children, you're in a season of life that demands a lot of your time and energy. It's easy to become isolated from others when you're so busy caring for your children. But God wants you to connect with other people and enjoy vibrant relationships with them – even while you're navigating the demands of parenting young children.
You don't have to wait until your children grow older and less needy to invest in good relationships. Here's how you can create dynamic relationships right now:
Find your rhythm. Everyone's life functions in a particular rhythm: a certain pace that's in tune with how they balance demands on them while living according to their values. Ask God to help you get in sync with your own soul, discover what matters most to you and why, and make decisions based on that.
Recognize that you're not alone. Plenty of other parents face the same obstacles to developing vibrant relationships as you do: from fatigue and time pressures to barriers created by competition and labeling among parents. But you all can overcome those obstacles with God's help. Realize that many of your fellow parents would like to build better relationships with others and will be encouraged to do so with you if you reach out to them.
Take advantage of the opportunities God brings you to connect with others as you go through your daily routine. It's tempting to put off reaching out to others until you've completed your daily tasks, but doing so is unrealistic, since you probably won't have much free time while parenting young children. So rather than waiting until you have any free time, make use of all the time you spend doing your daily work to socialize with others in the process. From talking on the phone while doing laundry to joining others to grocery shop together, be creative about using every opportunity within your daily routine to invest in relationships.
Keep developing and using the talents God gave you to improve the world. Don't neglect putting your God-given talents into action to help make the world a better place, even during this busy season of your life. While you do need to focus a lot of time and energy on parenting demands right now, it's not healthy to allow your children to consume so much of your time and energy that you don't have any left over to keep learning, growing, and serving outside of your family responsibilities. Remember the work you used to enjoy before you became a parent: work that reflected what you can do best to help meet the world's needs. Schedule time regularly to continue that work in some form (whether paid or volunteer), and protect it. Keep in mind that your children need to see you model passion and talent in action fulfilling God's purposes – when they see you doing so, they'll be inspired to keep learning and serving themselves as they grow up. So don't let your world shrink down to just focusing on your children and nothing else. Ask God to help you be confident and bold about continuing to serve Him in every way He calls you to use your talents, both inside and outside your home. Know that whatever you can do in response to God's callings will have a significant impact, even it seems small to you, because the world changes one small act of love at a time.
Create a family culture that reflects how you want your family to be known. Since the type of culture your family has influences the lives of all the people who know you, intentionally create a family culture that reflects the values for which you want your family to be known. Ask yourselves questions such as: "What are our gifts?", "What makes us laugh?", "In what ways can we all grow and be more fully the people we were created to be?", "How can we better connect to each other and learn how to connect in a healthy way with others?", and "How is each one of us distinctly suited to make the world a better place?" Then prayerfully set long-term goals for developing the kind of family culture you want to have.
Have something to say about this article? Leave your comment via Facebook below!
advertise with us
Example: "Gen 1:1" "John 3" "Moses" "trust"
Advanced Search
Listen to Your Favorite Pastors