C.S. Lewis - A Life: A Thorough Look at the Man, a Glimpse of His Imagination
Dr. Stanley J. Ward, Biblical Worldview Director, The Brook Hill School
Wednesday, May 08, 2013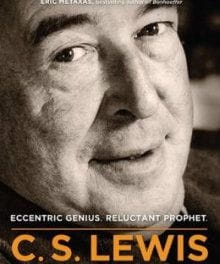 "Cambridge" (chapters thirteen and fourteen, 1954 - 1963) returns to the biographical story and describes two major developments: Lewis's move from Oxford and his marriage to an American divorcee. In 1954, Lewis was offered a position as Cambridge University's first Professor of Medieval and Renaissance English. In his inaugural lecture, Lewis argued, "The Renaissance never happened," redefining the time period as something made up of values approved by modern writers. Also during these years, Lewis married Joy Davidman, who encouraged him to write 'Till We Have Faces. Lewis believed it to be his best work. Joy would inspire other written work, including A Grief Observed, written by Lewis as he struggled with the dark emotions and doubts unleashed after Joy's death.
In "Afterlife," (chapter fifteen, post-1963) McGrath provides helpful commentary on how Lewis's influence continued after his death, impressing evangelicals and engaging modern audiences. Lewis became a prominent figure among American evangelicals who were captivated by his ability to engage culture. McGrath connects Lewis's ability to engage modern culture with a post-modern preference for stories.
ANALYSIS
So what makes McGrath's book different than the myriad of other Lewis biographies available? Certainly the basic storyline is the same, although McGrath does challenge the currently accepted date for Lewis's conversion to theism and later to christianity.
Besides that original contribution, McGrath also uses significant primary and secondary sources, and he his status as a former professor at Oxford University suggests personal insights into Lewis's own life at Oxford. Among other primary sources, McGrath relies on the now-published Collected Letters of C. S. Lewis, edited by Walter Hooper. Other significant Lewis biographies, such as George Sayer's Jack: A Life of C. S. Lewis, and Alan Jacobs's The Narnian: The Life and Imagination of C. S. Lewis lacked this resource. Similarly, McGrath is able to take advantage of other recent and significant secondary sources, such as Planet Narnia. Finally, Christians fascinated with Oxford University will find the combination of Oxford professors McGrath and Lewis hard to resist.
Readers who are interested in both C. S. Lewis and apologetics will also benefit from reading McGrath's work. Though certainly sympathetic to Lewis, the author provides critical commentary for Lewis's writing. In particular, he considers Lewis's famous "trilemma" and how it comes up short, not taking seriously the modern critique that Jesus was simply wrong about his identity. McGrath also uses William James's discussion of religious experience in analyzing Lewis's concept of "Joy." Another common concern for Christian apologetics is the problem of evil and suffering. McGrath's retelling of Lewis's life makes clear that Lewis was no stranger to suffering himself. Additionally, though Lewis wrote about redemption, he deeply understood human fallenness. For example, in the complicated relationship between himself, his father, and Mrs. Moore, McGrath explains how Lewis "despised and deceived his father" (p. 118).
Have something to say about this article? Leave your comment via Facebook below!
advertise with us
Example: "Gen 1:1" "John 3" "Moses" "trust"
Advanced Search
Listen to Your Favorite Pastors