C.S. Lewis - A Life: A Thorough Look at the Man, a Glimpse of His Imagination
Dr. Stanley J. Ward, Biblical Worldview Director, The Brook Hill School
Wednesday, May 08, 2013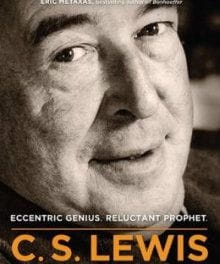 What McGrath does especially well is illustrate Lewis' interest in the transcendent and how that interest guided his literary thinking. He quotes Lewis's belief that "all that is not eternal is eternally out of date" (quoted from The Four Loves, p. 166). Lewis engagement with the Great Books shaped both Lewis and the work he produced. McGrath goes on to explain, "We must never forget that one possible outcome of engaging with great literature is not merely to write such works oneself, but to incorporate the wisdom, wit, and elegance of the past into forms that can engage the present" (p. 190).
The primary question for analyzing the success of McGrath's work is to compare his finished product with his stated purpose of understanding Lewis's life and the ideas he expressed in his writings. There is certainly a wealth of biographical information here, and it is based on the recent release of significant primary and secondary sources. However, readers may be disappointed if they are looking for a biography that focuses primarily on Lewis's ideas over the details of his life. McGrath's ambition to provide a context for Lewis' ideas was admirable, but sorting out the difference between biographical facts and intellectual biography was difficult. Certainly what McGrath offers readers is interesting, but is all of it necessary to make his point? For example, McGrath provides additional commentary on Lewis's relationships with Tolkien and Joy Davidman that does not necessarily help readers understand Lewis' ideas or how he expressed them. Nevertheless, readers who are looking for a substantive discussion of Lewis's life will want to add this volume to their home library.
RECOMMENDATIONS
C. S. Lewis - A Life demonstrates that even 50 years after his death, Lewis's ideas and imagination continue to impact the world. For those who wish to know more about Lewis, there are a variety of resources available. The chief questions become what specifically someone wants to know, and how someone wants to know it. For example, C. S. Lewis: Beyond Narnia is an excellent video introduction that features an actor who portrays Lewis retelling his life. What makes this video effective is its extensive use of quotes or paraphrases from Lewis's own writings. For those who prefer autobiography, Lewis's own Surprised by Joy provides a sort of spiritual autobiography that was published in 1955. The omissions here will be significant, because it was published before Lewis marriage to Joy Davidman. Joy's son, Douglas Gresham, has also written Jack's Life: The Story of C. S. Lewis and Lenten Lands: My Childhood with Joy Davidman and C. S. Lewis.
Of course, part of what makes Lewis so interesting is the group of men he associated with, known as the Inklings. This group included J. R. R. Tolkien and Charles Williams. Humphrey Carpenter's Inklings provides a helpful analysis of these three men. Christianity Today also has an Essentials series that features e-book introductions to both Lewis and Tolkien. For those who prefer academic analysis, The Mythopoeic Society produces a biannual journal, Mythlore, dedicated to the work of Lewis, Tolkien, and Williams.
One of Lewis's greatest gifts is his ability to blend imagination and reason. Thankfully, Lewis is among a company of Christian authors with this gift. Those who wish to consider Lewis's work alongside that of other Christian fantasy writers will want to read Rolland Hein's Christian Mythmakers (which sadly appears to be out of print).
Dr. Stanley J. Ward is the Director of Campus Life and Ministry at The Brook Hill School in Bullard, TX. He is also the author of Worldview Conversations: How to Share Your Faith and Keep Your Friends.
Publication date: May 8, 2013
Have something to say about this article? Leave your comment via Facebook below!
advertise with us
Example: "Gen 1:1" "John 3" "Moses" "trust"
Advanced Search
Listen to Your Favorite Pastors