A Single Mom Christmas
Dena Johnson, Dena's Devos
Monday, December 16, 2013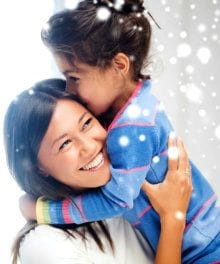 It was my first Christmas as a single mom. The entire state had been shut down by a rare Christmas Eve blizzard. My kids had been with their dad for several days—longer than I had ever been away from them. The reality of our divorce was setting in as I stared straight into the face of loneliness and loss.
I was supposed to have my children by 11 am Christmas morning, but the snow caused the state to come to a grinding halt and my hopes were fading. Finally, I received word that the turnpike was open. With the determination that can only come from a mother missing her children, I made my way through four-foot snowdrifts to my sister's house.
We jumped in her 4WD truck, and made our way to my children. Nothing was going to keep me away from my babies on Christmas day! When we arrived at their grandparents' house, they came bounding out the door to meet me. My heart was finally full! It was mid-afternoon when we finally made it home to enjoy what was supposed to be the most exciting day of the year for kids.
Finances were extremely tight, but I had managed to scrape together enough to buy some Christmas gifts for my kids. There was a sting as I realized that there was nothing under the tree for me. But, nothing could steal the joy in my heart now that my babies were home—or so I thought. I watched with excitement as they opened the gifts I had managed to purchase.
"Why didn't we get anything fun?" my five-year-old asked innocently.
I fought the tears stinging my eyes as I tried to explain that we just didn't have the money. Besides, Christmas is about Jesus. Gifts should not be our focus. As an adult, it was a perfectly understandable explanation; but to a five-year-old who had just returned from a Christmas where she had received an abundance of gifts, it was less than acceptable.
Fortunately, my kids' focus was on playing in the snow; it turned out to be a gift from God! They had never seen such a massive amount of fluffy white heaven! They quickly found the warmest clothes they could find and rushed outside. Snow angels and snowball fights ensued. We grabbed the sleds and took turns pulling each other around the neighborhood. When the sun began to set, we went inside and had a non-traditional Christmas wiener roast in the fireplace. We finished the evening by making and decorating Christmas cookies and gingerbread houses. I was thankful that the snow had provided a distraction from the less than stellar Christmas gifts. I was glad that we had enjoyed the gift of togetherness.
By God's grace, recent Christmases have been a much more pleasant experience than that first Christmas as a single mom. I have chosen to busy myself by working the holidays my children are with their dad. Our finances have improved drastically even though there is certainly not enough to indulge their every whim. They have grown and matured and realized that there are things far more important than the gifts they receive.
But the holidays still bring a certain amount of pain as I am reminded that I am celebrating Christmas as a single again. How do you find joy when you walk into that Christmas Eve service alone—or as a non-traditional family? How do you find joy when finances are so tight you don't know how you can provide for gifts? How do you find joy when your kids will not be with you on Christmas?
Be Creative!
As a parent, my primary goal for Christmas is to focus my children on God. For the last few years, I have purchased a Christmas ornament for each child. In the days leading up to Christmas, I tape a scripture reference to each ornament and hide them throughout the house. Each day, my kids are tasked with finding their ornaments and reading the verse to me. They are then rewarded with a small gift.
Then, on Christmas day, I try to find a fun way of hiding their gifts. Two years ago, I sent them on a scavenger hunt throughout the neighborhood. Eventually, they found a gift and unwrapped it with excitement—only to find a puzzle of Mickey Mouse. As they began to put the puzzle together, they discovered a message: "We are going to Disney World!" It was a real sacrifice to make that trip happen, but it was a celebration of how far we had come in the previous years.
Recently on Christmas and Advent
Have something to say about this article? Leave your comment via Facebook below!
advertise with us
Example: "Gen 1:1" "John 3" "Moses" "trust"
Advanced Search
Listen to Your Favorite Pastors