Advent: Waiting on Jesus Christ
Sarah Jennings, Crosswalk Family Editor
Thursday, November 01, 2007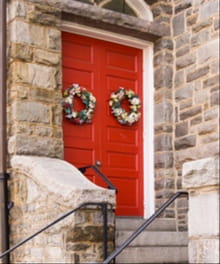 (From the Roman Martyrology www.catholicculture.org)
Meditate on that for a moment. This chant in many ways gives us a God's-eye view of history -- its conciseness reveals the relative shortness of human history compared to God's infinite nature, yet numbers like "one-thousand five-hundred and ten" remind us of the incredible waiting on the part of God's people. How long the earth has waited for a Redeemer since the Fall. How long the Israelites waited for a king amid persecution and shortcomings. How much humanity yearns today for a Savior, yearns for wrongs to be made right. When life weighs heaviest on us, and one day feels like ten years, the tension builds as we wonder, "How much longer, Lord?"
Yet this chant reveals that waiting for Jesus' birth was not hopeless or in vain. We know God, in His perfection, would not ask us to wait on Him a single day without reason. This is the purpose of Advent -- to open the doors for Christians to joyfully embrace the tension between hope in Christ and God's "not yet." It is a wonderfully paradoxical season where images of tiny mangers and humble shepherds stand next to celestial beings armed with trumpets and swords. It is a season of preparation, where we fix our eyes on heaven and learn to rejoice in the One "'who is, and who was, and who is to come;'" (Rev. 1:8).
Purposeful Waiting, Practical Waiting
And it is my prayer that your love may abound more and more, with knowledge and all discernment, so that you may approve what is excellent, and may be pure and blameless for the day of Christ, filled with the fruits of righteousness which come through Jesus Christ, to the glory and praise of God. Philippians 1: 10-11
How can we make the most of this brief season and cultivate joyful, fruitful anticipation in our hearts and the hearts of our children? Scripture is always a good place to turn. Our church's Advent season is mixed with prophetic readings from the Old Testament as well as readings about the end of time from the New Testament. The Scriptures, juxtaposed, paint an intense picture of an eternal God allowing His plan for creation to unfold for His greater glory and the benefit of those He loves. The purpose of the readings is not to get into lengthy eschatological debates, but rather to prepare our hearts to receive Christ -- both as a fragile infant and a triumphant king. Passages from Isaiah, the Psalms, Luke, Matthew and Revelations are among some of the most popular this time of year.
Long-held Advent traditions, like Advent wreaths and Advent calendars, paired with Scripture verses, are perfect for instilling joyful anticipation in our homes.
Even if it is too late to start a wreath or calendar for your family this year, another wonderful way to put things in perspective for our children -- and ourselves -- is a tradition called the "The Jesse Tree."
The Jesse Tree, named after the prophecy in Isaiah 11: 1 ("There shall come forth a shoot from the stump of Jesse…"), is a daily, or weekly devotion that has a similar effect as the chant quoted above - it takes the family through salvation history, starting with creation and leading up to the birth of Christ. The family sets up a simple tree, and each day of the month creates ornaments corresponding with major Scriptural events leading up to the Nativity and usually associated with Jesus' genealogy. There are many resources for Jesse Tree's, including pre-selected readings and pre-made ornaments. (View an example of a Jesse Tree here.)
As we build up to these last days before Christmas, may you refrain from rushing toward December 25. Instead, find time with your family to experience the peace that comes with waiting on the Lord.
"It will be said on that day, 'Lo, this is our God; we have waited for him, that he might save us. This is the LORD; we have waited for him; let us be glad and rejoice in his salvation.' Isaiah 25:9
Visit Crosswalk's Christmas Facebook page at www.facebook.com/LuvChristmas.
Recently on Christmas and Advent
Have something to say about this article? Leave your comment via Facebook below!
advertise with us
Example: "Gen 1:1" "John 3" "Moses" "trust"
Advanced Search
Listen to Your Favorite Pastors