Christmas IQ Quiz
Dr. Ray Pritchard, Author, Speaker, President of Keep Believing Ministries
Tuesday, December 06, 2011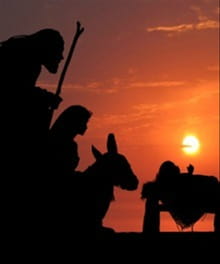 15. Where did the wise men find Jesus? (Matthew 2:11)
A. In a manger
B. In a stable
C. In Nazareth
D. In Saudi Arabia
E. In a house
F. None of the above

16. When the wise men found Jesus he was... (Matthew 2:11)
A. A babe wrapped in swaddling clothes
B. A young child
C. A boy in the temple
D. A grown man

17. The "star in the east" that the wise men followed... (Matthew 2:9)
A. Stayed in the same place their entire journey
B. Disappeared and reappeared
C. Moved ahead of them and stopped over the place where Jesus was
D. Was just a mirage
E. None of the above

18. The wise men stopped in Jerusalem... (Matthew 2:2)
A. To inform Herod about Jesus
B. To find out where Jesus was
C. To ask about the star
D. To buy presents
E. None of the above

19. Where do we find the Christmas story?
A. Matthew
B. Mark
C. Luke
D. John
E. All of the above
F. Only A and B
G. Only A and C
H. Only A, B and C

20. When Joseph found Mary was pregnant, what happened?
A. They got married
B. Joseph wanted to break the engagement
C. Mary left town for three months
D. A and B
E. B and C

21. Who told (made) Mary and Joseph go to Bethlehem? (Luke 2:1-5)
A. The angel chorus
B. Mary's mother
C. Herod
D. The shepherds
E. Caesar Augustus
Don't forget to check the online answer page to see how well you did. Your comments are always welcome.
You can reach the author at ray@keepbelieving.com. Click here to sign up for the free weekly email sermon.
Visit Crosswalk's Christmas Facebook page at www.facebook.com/LuvChristmas.
Recently on Christmas and Advent
Have something to say about this article? Leave your comment via Facebook below!
advertise with us
Example: "Gen 1:1" "John 3" "Moses" "trust"
Advanced Search
Listen to Your Favorite Pastors