"I will never leave you nor forsake you" (Hebrews 13:5).
We all have burdens and concerns that keep us awake at night:

What will tomorrow bring?
Will our health hold up or will we have a heart attack or a sudden stroke?
Will we end up in a nursing home or waste away in a hospital?
What about our children? Will they serve the Lord? What if something happens to them?
Who will take care of us in our old age?
Singles wonder if they will ever marry. Married couples look at all the divorces and wonder if they will make it.
Will we live to see our grandchildren?
We all have concerns about our career choices, and we wonder where we will be in ten years.
Here are three truths that ought to encourage us as we think about our worries over the future:

1. Don't worry about tomorrow because God is already there. He is the God who goes before his people.
2. God promises to be with you no matter what happens to you tomorrow and the day after tomorrow and all the days after that. You cannot outlive God's goodness.
3. You can live without worry because God has you on his heart at this very moment. He will not forget you; indeed, he cannot forget you.
To all our fears the Lord simply says, "I am with you always."
Christians ought to be optimistic as we face tomorrow. We have a great future because we have a great God who has promised to never leave us.
Here's a simple exercise to remember this truth. Hold up your hand and repeat these five words: "I will never leave you," touching a different finger each time. Say it and then repeat it. Let the five fingers remind you of those five words that make a grand promise to every child of God. No matter where you go this week, your Heavenly Father goes with you. He will never leave nor forsake you. Not today, not tomorrow, not ever.
He is with you when you feel his presence, and he is with you when you feel nothing at all. Don't go by your feelings because your feelings can mislead you. Remember God's promise. He is with you right now, he will be with you tomorrow, and he will be with you forever.
So chin up, child of God. Stop staring in the soup. Pull those shoulders back. Put a smile on your face. Take your troubles, wrap them up in a box, and give them all to the Lord.
Forgive me, Lord, for doubting your presence. Thank you for being there, in the fiery furnace, just when I need you most. Amen.
Musical bonus: The students of Fountainview Academy have produced a lovely version of O Come, All Ye Faithful.
Click here to sign up for the free email sermons.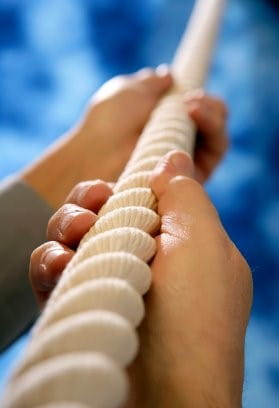 "For I know the plans I have for you," declares the Lord, "plans to prosper you and not to harm you, plans to give you hope and a future" (Jeremiah 29:11).
Some versions say, "to give you an expected end."
That's actually a good way to translate the last phrase of Jeremiah 29:11. God is not giving a vague promise that things are going to be better sometime, somewhere, in some situation. That's true, of course, but this verse has a very specific focus. God has an appointed end for his people, and nothing will hinder them from reaching that appointed end. Though the Jews could not see it, held as they were under total Babylonian domination, seventy years down the road the same God who raised up a pagan king (Nebuchadnezzar) to judge them will raise up another pagan king (Cyrus) to deliver them. Neither pagan king was aware of his part in God's plan. Each man acted according to his own free will, and God worked through those kingly decisions to bring his children home.
The end they expect will come, though not exactly as they expect it.
And not for 70 years.
They will see the end God always intended.
God has no unfinished plans!
They will see what God intended from the beginning.
Seen in this light, Jeremiah 29:11 becomes a great comfort, especially when we are going through hard times. It teaches us that God thinks of us, that his thoughts toward us are good, and that when his purposes have been completed, he will bring our troubles to their appointed end.
This is the "hope and future" we all need.
If this verse is true, then our position ought to be one of ever-increasing hope in the Lord. I admit that is hard to do when you see your child suffering from cancer or when your marriage falls apart or your career dissolves or you cannot pay your bills, or you suffer rejection from those you thought you could trust. We live in a fallen world, and we ourselves are fallen people, not yet what we could be or should be or someday will be. There is no Bible verse that can take away the pain of this world. But Jeremiah 29:11 leads us out of the darkness into the light.
If we know Jesus, we will have what we need, when we need it. Let that thought give strength to your heart today.
Lord Jesus, help me to remember today that your plans are always better than mine. Amen.
Musical bonus: MercyMe recorded an uplifting Christmas medley called Joy.
Click here to sign up for the free email sermons.
"Come to me, all you who are weary and burdened, and I will give you rest" (Matthew 11:28).
Are you ready for Christmas?
Maybe you're not ready to answer that question. After all, we've got two weeks to buy gifts, wrap presents, make candy, decorate the tree, put up the lights, go to parties, watch a thousand holiday specials on TV, and otherwise do the things we have to do to be ready for Christmas.
Not everyone gets excited this time of year. Many people feel exhausted and stressed out as the big day approaches. Start with all the things I just mentioned, then add big meals to plan, special services at church, and long trips to visit our kids and grandkids. It quickly becomes overwhelming.
We need some rest.
That's where the words of Jesus become so crucial. "Come to me," Jesus says. Note how personal it is. He does not say,
"Come to a meeting."
"Come to an organization."
"Come to a retreat."
He is not asking us to add yet one more thing to our already overcrowded schedule.
Because his invitation is personal, it demands a personal response.
There is nothing vague here.
There is no room for hesitation.
We need to be reminded that the Lord knows all about our troubles. We can say it more forcefully than that. Jesus knows what others do not know about us. He knows all the hidden secrets, the inner fears, and the unspoken doubts about what tomorrow may bring. He knows the whole truth about you and me, and he loves us anyway.
What is it that weighs you down today? What makes you weary and in need of rest? Is it pain or sickness or a failing marriage? Is it worry about your future? Is it a burden for your children? Is it a searing temptation or crippling bitterness? Is it the demands of others that never seem to end?
I saw this question on Facebook: How many times a day do you say, "I'm so tired I can't keep going"? There were four choices:
1
5
10
A thousand times a day.
I smiled when I saw that 77% of people chose D because that's the way most of us feel.
Here's the good news for today: Jesus knows who you are and where you are. He knows how tired you feel. You are not lost or forgotten.
These words of Jesus are for you.
When old-time preachers gave the invitation at the end of a sermon, they would often say, "Won't you come? Won't you come to Jesus?"
He has already come for you.
He is waiting for you to come to him.
Won't you come? Won't you come to Jesus?
Lord Jesus, thank you for coming from heaven to earth for me. I pray for faith to come to you that I might find rest for my soul today. Amen.
Musical bonus: Lauren Daigle is a rising star in Christian music. Let's enjoy her performance of a song called Light of the World.
Click here to sign up for the free email sermons.