How Blended Families Can Conquer Holiday Hassles
Laura Petherbridge, TheSmartStepmom.com
Friday, December 02, 2011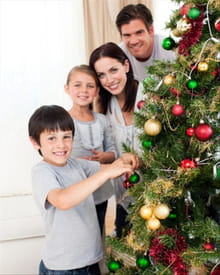 Topsy-Turvy Traditions
Traditions play a huge role in the holiday dynamic. When family rituals and customs are sustained they reinforce identity and define what is "normal." I'd love to pass on to my stepsons the Italian family traditions I've experienced. But I quickly learned that they already have their own traditions, based on family background. What feels cozy and familiar to me isn't "normal" for them. This lack of shared tradition makes each side feel different, disconnected, and separate, thereby generating discomfort and stress for everyone.
Toxic Circumstances
When several family members who are unsettled about the stepfamily are gathered together for a special occasion, the cumulative anxiety may create an explosion. The underlying raw emotions that each person carries may be inflamed by others in the room. Therefore, take caution before throwing numerous family members into close surroundings if you suspect they are incapable of handling the tension. It's best to celebrate separately until these issues can be resolved. Trying to resolve family conflict during special occasions is usually unproductive.
Plan Ahead
One of the main stressors for kids of divorce is not knowing which house will be "home for the holidays." As soon as possible make a plan. However, hold on to the reality that you cannot control the parents. If at the last minute one of them decides to withhold the kids as a weapon to hurt each other, even if the divorce papers dictate differently, you can't fix it. Step back and let your spouse deal with the situation, which may mean going to court.
Bridging the Gap is the Goal
Slowly implementing new traditions, while holding on to old ones, is a good way to start. Stepmoms often want everything to be new and different than the first marriage, or the first wife, but it's unwise to throw out everything that's familiar.
Sit down as a family and discuss what the kids enjoy and what they would like to do this year. Learn which traditions mean something significant to them, and which ones they can toss. And then try one new small thing. "I know you have always had an artificial tree in the past, would you like to get a real one this year?"
During the holidays your family may not look like a Norman Rockwell painting, but then neither does mine. To have a happier holiday I've learned to lower my expectations, treat the family with love and compassion, work on the things I can control and let go of the ones I cannot, surround myself with people I enjoy, and remember the reason for the season.
Ahhh … now where's is that cup of eggnog?
Copyright © 2010 Laura Petherbridge. All rights reserved.
Laura Petherbridge is an international author and speaker who serves couples and single adults with topics on relationships, divorce prevention and divorce recovery. She is the author of When "I Do" Becomes "I Don't"—Practical Steps for Healing During Separation and Divorce, and a featured expert on the DivorceCare DVD series. Her newest book, The Smart Stepmom, is co-authored with Ron Deal. Laura's website is www.The SmartStepmom.com.
Visit Crosswalk's Christmas Facebook page at www.facebook.com/LuvChristmas.
Recently on Christmas and Advent
Have something to say about this article? Leave your comment via Facebook below!
advertise with us
Example: "Gen 1:1" "John 3" "Moses" "trust"
Advanced Search
Listen to Your Favorite Pastors