Incarnation Minus Paganism: A Christmas What-If
Dr. Stanley J. Ward
Monday, December 05, 2011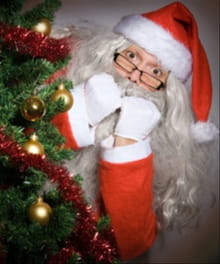 In the Christmas story, the peeled-back one, God used the forced census of a pagan empire to set the stage for His grand invasion of the human condition. Rather than remove a pagan influence, He redeemed it. I say rather than dismiss all of Christmas's cultural detritus, let us invade it. How? Let's saturate this mid-winter celebration with all-out proclamation, worship, and joy.
---
[1] I'm borrowing the term from C. S. Lewis, who calls the details of his book The Great Divorce an "imaginative supposal."
[2] Unless otherwise noted, all the facts of this article are derived from one or more of six different sources: Owen Chadwick's (1995) A History of Christmas, Donald Heinz's (2011) "Christmas and the Clash of Civilizations" in Christian Reflection 41, Jonathan Hill's (2005) What Has Christianity Ever Done for Us?, Joseph Kelly's (2004) The Origins of Christmas and his 2011 article, "The Birth of Christmas" in Christian Reflection 41, and Herbert Weinicke's Christmas Customs Around the World.
[3] http://www.daveramsey.com/article/dave-ramseys-thoughts-on-holiday-shopping/lifeandmoney_budgeting/text3/ or see this article: http://guynameddave.com/2011/11/american-rush/
[4] http://www.npr.org/2011/11/28/142859821/a-plea-to-protect-shoppers-on-black-Friday
[5] Heinz, 20.
[6] Heinz, 19. Apparently the excessive consumerism is not a new problem, though. Around 400, bishop Austerious of Amasea in Cappodocea complained about Christians going into debt because they wanted presents so badly.
[7] http://en.wikipedia.org/wiki/The_Church_Lady
[8] Henry Wadsworth Longfelow (1856), commenting on life in New England: "The old puritan feeling prevents Christmas from being a cheerful, hearty holiday, though every years makes it more so" (Quoted in Kelley, 2004).
[9] http://www.stnicholascenter.org/pages/three-impoverished-maidens/
[10] See volume three of The Complete Works of Francis A. Schaeffer: A Christian Worldview.
[11] Heinz, 24.
Stanley J. Ward is the Director of Campus Life and Ministry at The Brook Hill School in Bullard, TX. He is also the author of Worldview Conversations: How to Share Your Faith and Keep Your Friends.
Publication date: December 5, 2011
Visit Crosswalk's Christmas Facebook page at www.facebook.com/LuvChristmas.
Recently on Christmas and Advent
Have something to say about this article? Leave your comment via Facebook below!
advertise with us
Example: "Gen 1:1" "John 3" "Moses" "trust"
Advanced Search
Listen to Your Favorite Pastors