Laughter and Joy During Christmas
Debbie Przybylski, Intercessors Arise
Tuesday, November 29, 2011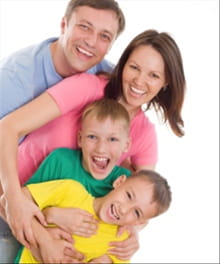 "Create a habit of happiness and laughter instead of a habit of worry. When you laugh, it lowers stress hormones and relieves stress. Laughter also boosts the immune system, protects the heart, and improves overall health. Ten belly laughs a day are equivalent to getting a good aerobic exercise workout, and they're the ultimate 'stress buster.'" Don Corbert, MD
With Christmas right around the corner, many people are incredibly stressed out worrying about all the things they have to do, all the presents they have to buy, and all the places they have to go. In other words, you and I can be incredibly burdened right during the season when we should be the most joyful. We are celebrating Jesus' birth!
Did you know that laughter helps promote good health? A laugh can help:
Lower your blood pressure
Boost your immune system
Improve your brain function
Elevate your mood
Reduce your stress
Help you relax
Protect your heart
"True laughing offers one of the most powerful and natural healing methods without any side effects. Laugher lowers the stress hormones cortisol and epinephrine. It increases feel-good hormones. It keeps you squarely in the present moment. It helps you to reframe and feel thankful and helps you to see negative events in a more positive light. There's not a single bad thing laughter will do for your body and mind," writes Don Corbert, MD.
In Proverbs 17:22 the Bible says, "A cheerful heart is good medicine." In Nehemiah 8:10 we read, "for the joy of the Lord is your strength." The Bible supports the fact that cheerfulness and joy promote good health. Paul exhorts us in Philippians 4:4-6, "Rejoice in the Lord always. I will say it again: Rejoice! Let your gentleness be evident to all. The Lord is near. Do not be anxious about anything, but in everything, by prayer and petition, with thanksgiving, present your requests to God."
But is it possible to rejoice in the Lord always? Paul states it twice in Philippians 4:4. He knew that it's something we have to command and encourage ourselves to practice. Struggles are not easy, but Paul, while in prison, was able to rejoice. And then he tells us to pray about everything with thanksgiving as we present our requests to God.
Perhaps prayer is a key to the ability to rejoice always. Perhaps prayer is a key to finding joy and laughter during this Christmas season. It certainly is not easy to rejoice in certain circumstances of life, but there really is a choice of how we will view them. God has an answer for everything, even when we don't see it through our human eyes. He knows the beginning from the end, and it's our choice if we want to link with Him or not. The world is negative and tries to squeeze us into its mold, but God has a way that we can walk through our circumstances victoriously.
Joy is a fruit of the Spirit. It is not something we can create ourselves. God's joy is supernatural and can remain deep and abiding even when we are in the midst of hardship. It is not the absence of pain or difficult circumstances. What could be harder than prison? But it is learning to let God's Spirit fill you with His unquenchable joy, regardless of your circumstances. For a world looking desperately for hope, your life becomes a miracle and a testimony of Christ's light especially during this time of year.
Choosing to pray is not always easy, but it is the true path of life. Psalm 16:11 says, "You have made known to me the path of life; you will fill me with joy in your presence, with eternal pleasures at your right hand." There is joy in the secret place of prayer. There is joy as we choose to center our life in God and knowing Him. There is joy, laughter, and breakthrough even in the darkest of circumstances when we choose to make Jesus our highest ambition, our deepest desire, and our greatest goal. Then He breaks through for us with transcending peace and supernatural understanding.
Recently on Christmas and Advent
Have something to say about this article? Leave your comment via Facebook below!
advertise with us
Example: "Gen 1:1" "John 3" "Moses" "trust"
Advanced Search
Listen to Your Favorite Pastors