$pending This Christmas or Spending It Well
Michael Craven, Center for Christ & Culture
Monday, December 05, 2011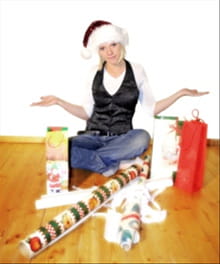 Consciously we know this promise is ridiculous; however, subconsciously we frequently find ourselves seduced by the lords of consumerism into believing this silliest of propositions. As Easterlin has confirmed, as we acquire possessions, our aspirations rise in proportion to the gains, leaving us no happier than before. Indeed, the more we earn the more we want! This misguided (and idolatrous) expectation sets us up for perpetual disappointment because as the evidence demonstrates, prosperity always fails as a source of lasting contentment and life satisfaction.
The first remedy is to simply recognize the false and frankly illogical "gospel" offered by consumerism. This alone offers some degree of immunity from the insidious and seductive voice of consumerism. Secondly, from a purely financial perspective, Dave Ramsey offers some practical advice relative to Christmas:
Make a list of everyone you are buying a gift for and put a dollar amount by every name. Total it at the bottom. This is your Christmas budget. The people in the mall have a plan to get your money — get a game plan for your shopping so you can keep some money. There is no excuse for financing Christmas.
Pay cash. Put the total from your budget in an envelope and when the cash is gone, stop spending. This will help keep you on budget because if you overspend on Aunt Sue, Uncle Harry won't get a gift.
69 percent of Americans bought a gift for themselves last year. Don't buy yourself a gift! This is the season to give not to receive … from yourself.
If you find yourself swept up in the rush of consumerism, stop! Remember that Christmas is about God's gracious and abundant gifts to humanity — the gifts of life, family and friends, good food, music, worship; the virtues of peace, charity and mercy; and the greatest of all: His Son, Jesus. Savor these things. Ponder the truth so beautifully expressed in the words of my favorite Christmas carol:
Long lay the world in sin and error pining,
Till He appeared and the soul felt its worth.
A thrill of hope, the weary world rejoices,
For yonder breaks a new and glorious morn.
Christmas reminds us that we who were without hope, weary and discontent, slaves to sin and sorrow, now have a real and present hope. We can be saved from this dreadful condition and finally discover satisfaction and contentment not because we received the latest gadget but because "God so loved the word that He sent His only begotten Son"! We can be reconciled with God! So this Christmas let us not be swept away by the illusory claims of consumerism; instead, let us revel in God's gracious gifts, to drink deeply the wonder of relationships and life and every moment of this season — these will leave you truly satisfied and debt-free!
© 2011 S. Michael Craven
Respond to this article here.
Subscribe to Michael's weekly commentary here.
S. Michael Craven is the president of the Center for Christ & Culture and the author of Uncompromised Faith: Overcoming Our Culturalized Christianity (Navpress, 2009). Michael's ministry is dedicated to equipping the church to engage the culture with the redemptive mission of Christ. For more information on the Center for Christ & Culture and the teaching ministry of S. Michael Craven, visit www.battlefortruth.org.
Visit Crosswalk's Christmas Facebook page at www.facebook.com/LuvChristmas.
Recently on Christmas and Advent
Have something to say about this article? Leave your comment via Facebook below!
advertise with us
Example: "Gen 1:1" "John 3" "Moses" "trust"
Advanced Search
Listen to Your Favorite Pastors