The Forgotten Chapter of the Christmas Story & the Women in Jesus' Family Tree
Ray Pritchard, Keep Believing Ministries
Wednesday, December 12, 2012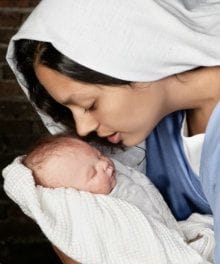 Four unlikely women:
Three are Gentiles
Three are involved in some form of sexual immorality
Two are involved in prostitution
One is an adulteress
All four are in the line that leads to Jesus Christ!
Why would God include women like that in this list? But it's not just the women. Think about Abraham, Isaac, Jacob and David. They were sinners, too. Why include people like that?
A Message to the Self-Righteous
I think there are three answers to that question:
1. He did it to send a message to self-righteous people.
Matthew was written especially to the Jews. Many of their leaders (the Pharisees in particular) were self-righteous and judgmental toward others. They truly thought they deserved eternal life. What a shock it would be to read this genealogy because it is filled with liars, murderers, thieves, adulterers and harlots. Not a pretty picture. Not a "clean" family tree. This list was a stinging rebuke to that kind of judgmental self-righteousness.
Do you know what this means? Jesus was born into a sinful family. He came from a long line of sinners.
2. He did it so that God's grace might be richly displayed.
If you come from a family like this, you can't exactly boast of your heritage. Sure, your ancestors were rulers and kings, but they were also great sinners.
Question: Can a prostitute go to heaven? Yes or no? Can an adulterer go to heaven? Can a murderer go to heaven? Can a liar go to heaven? You'd better say yes, because Rahab and David are both going to be in heaven—and Rahab was a prostitute and a liar and David was an adulterer and a murderer.
When you read the stories of these four women—and of the men on the list—you aren't supposed to focus on the sin, but on the grace of God. The hero of this story is God. His grace shines through the blackest of human sin as he chooses flawed men and women and places them in Jesus' family tree.
3. He did it so that we would focus on Jesus Christ.
Many people are intimidated by Jesus Christ. They hook him up with a lot of religious paraphernalia—big sanctuaries, stained glass, beautiful choir, pipe organs, formal prayers, and all the rest. When they look at the trappings, it's all very intimidating to them. To many in the world today, Jesus seems too good to be true.
This genealogy is in the Bible to let us know that he had a background a lot like yours and mine. He called himself "the friend of sinners," and he said he didn't come to call the righteous, but sinners to repentance. He said, "The Son of man has come to seek and to save that which is lost." (Luke 19:10)
Home for the Holidays
It's almost Christmastime, and many of us will be traveling home to spend time with our families. Some of you don't feel too good about that. You would rather not be going home this year, but you have to. You may have family members who embarrass you. Some of you are going to have to spend time soon with people who have hurt you deeply in the past. Fathers and mothers and brothers and sisters and uncles and aunts and grandparents and distant relatives. Some of them you'll be glad to see. The others? Some of them you'd rather not ever see again.
Some of them are incestuous. Some are adulterers. Some are liars. Some are murderers. Some are filled with anger and bitterness. Some are evil in bizarre ways. And you wish you didn't have to do what you've got to do—go home and face those family members at Christmastime.
Jesus understands the way you feel. He came from a disreputable family. His family tree was decorated with notable sinners. He knows what it is like to have relatives who embarrass you. He knows all about a dysfunctional family situation.
Good News From Jesus' Family Tree
Recently on Christmas and Advent
Have something to say about this article? Leave your comment via Facebook below!
advertise with us
Example: "Gen 1:1" "John 3" "Moses" "trust"
Advanced Search
Listen to Your Favorite Pastors