Think You're Anticipating Christmas? Consider Simeon & Anna
Jay Sampson, Teaching Elder at Heritage Church, Shawnee, Oklahoma
Sunday, December 22, 2013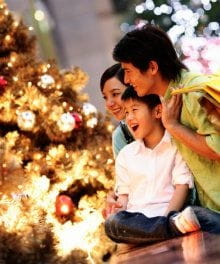 I imagine that you have probably given an great gift to someone in the past. You were probably overjoyed to see the recipient's surprise and thankfulness for an extravagant gift. But I don't care what it was that you gave, I am certain their response was not on par with the response we hear from Simeon at taking into his arms the revealed promise of God Almighty:
Luke 2:29-32 "Lord, now you are letting your servant depart in peace, according to your word; for my eyes have seen your salvation that you have prepared in the presence of all peoples, a light for revelation to the Gentiles, and for glory to your people Israel."
Simeon says, in essence, "I can die now." The world's peace and joy had come. The light and glory of God had come into the world. There would be not other. There was no need to wait any longer.
Similarly, in Luke 2:36, we meet a prophetess named Anna who was a long-time widow. Rather than give herself to any number of activities, Anna could be found – day and night – fasting and praying at the temple, waiting for the coming of the redemption of Israel. Until, that is, the day that the baby Jesus was brought to the temple. "And coming up at that very hour she began to give thanks to God and to speak of him to all who were waiting for the redemption of Jerusalem" (Luke 2:38). Hour upon hour of worshipping in prayer and fasting was spent – now the wait was over. The gift of God had arrived! The hour had come to cease from her prayer and fasting and to begin to give thanks and tell all who were waiting that redemption had come!
Gift-giving at Christmas doesn't bother me. While the world and the lusts of its aching heart may run after objects of hope that light up and require batteries, the minuscule anticipation of ribbons and bows serves to remind me that these things contain no true hope. They will add nothing to my joy. And, for those who have ears to hear, the hope and joy that hearts truly desire is a gift that has already been given.
All of this reminds me of one of my favorite quotes of all time. In his great work, The Weight of Glory, C.S. Lewis writes:
"If we consider the unblushing promises of reward and the staggering nature of the rewards promised in the gospels, it would seem that our Lord finds our desires not too strong, but too weak. We are half-hearted creatures, fooling around with drink and sex and ambition when infinite joy is offered us, like an ignorant child who wants to go on making mud pies in the slum because he cannot imagine what is meant by an offer of a holiday at sea. We are far too easily pleased."
In a season often filled with hope in fleeting treasure, use the opportunity to tell the story of true anticipation and an everlasting gift of eternal hope. Be pleased with nothing less.
Jay Sampson is the Teaching Elder at Heritage Church in Shawnee, Oklahoma where he pastors literally tens of people every week. A father of three and aspiring fantasy baseball champion, Jay has been teaching at Heritage since 2007. Weekly podcasts can be found at www.heritageshawnee.org.
Publication date: December 22, 2013
Recently on Christmas and Advent
Have something to say about this article? Leave your comment via Facebook below!
advertise with us
Example: "Gen 1:1" "John 3" "Moses" "trust"
Advanced Search
Listen to Your Favorite Pastors