Was Jesus Really Born on Dec. 25?
Angie Mosteller, CelebratingHolidays.com
Tuesday, December 06, 2011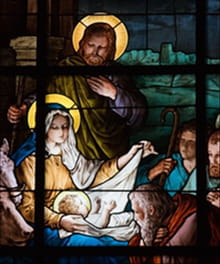 If the dating of Christmas was influenced at all by pagan celebrations, the most likely candidate was a holiday established in 274 AD by the Roman Emperor Aurelian (around 214-275 AD) called Dies Natalis Solis Invicti, "The Birth of the Unconquered Sun," on December 25. However, it is equally possible that Aurelian was attempting to co-opt a date that already had significance for believers. According to history professor William Tighe, "The date had no religious significance in the Roman pagan festal calendar before Aurelian's time, nor did the sun play a prominent role in Rome before him."2
By the time of Aurelian's reign, it appears that the god Mithras (originally a Persian deity who was said to be either the son of the sun or the companion of the sun) was earning popularity among traveling Roman soldiers. Aurelian decided to seize on an opportunity to bring a monotheistic cult to the Roman Empire, and it is likely that his motivation was to compete with Christianity – a growing monotheistic religion that he saw as a threat to the empire.3
The first clear record of Christ's birth on December 25 was not until 336 AD, but it is possible that the church had accepted the date long before and that it was already common knowledge. Regardless, even if the dating of Christ's birth was owed in part to the pagan holiday, "The Birthday of the Unconquered Sun," the influence was probably only secondary. It appears that the primary goal of the Church was to determine an appropriate date — one that Christians expected to be rich in symbolism. If this date, December 25, also happened to give the Church a sacred feast with which to counter pagan celebrations, then it was arguably the best possible choice for the day on which to honor Christ's birth.
1 Witvliet, John D. and Vroege, David. Proclaiming the Christmas Gospel, Ancient Sermons and Hymns for Contemporary Christian Inspiration. Sermon by St. Jerome, Baker Books, 2004, p. 26.
2 Tighe, William. Calculating Christmas. Touchstone Journal, December 2003 issue.
3 Kelly, Joseph. The Origins of Christmas. Liturgical Press, 2004, p. 63.
The content of this article is drawn from the book Christmas, Celebrating the Christian History of Classic Symbols, Songs and Stories. Learn more about this Christmas book.
Angie Mosteller is a homeschooling mom of two and founder of Celebrating Holidays, an educational company dedicated to teaching the Christian roots of American holidays.
Visit Crosswalk's Christmas Facebook page at www.facebook.com/LuvChristmas.
Recently on Christmas and Advent
Have something to say about this article? Leave your comment via Facebook below!
advertise with us
Example: "Gen 1:1" "John 3" "Moses" "trust"
Advanced Search
Listen to Your Favorite Pastors