Christ's Resurrection vs. Those of Other 'Gods'
Ryan Duncan, Crosswalk.com Entertainment Editor
Wednesday, April 10, 2013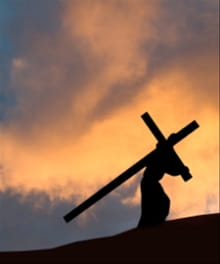 "Do you refuse to speak to me?" Pilate said. "Don't you realize I have power either to free you or to crucify you?" Jesus answered, "You would have no power over me if it were not given to you from above. Therefore the one who handed me over to you is guilty of a greater sin." John 19:10-11
This is perhaps the most important part of Christ's crucifixion. In any mythology or religion, a god usually demands sacrifice from his people. The god can ask for gold, livestock, even people, but never is the system put into reverse. Never does any god willingly sacrifice himself for his people.
None of These Beings Returned by Their Own Power
Finally, and most importantly, none of these other beings returned to life by their own power. In all other cases, the deity in question had some kind of outside help escaping the grave. Another deity stepped in to rescue them, or they were resurrected by some greater power. Jesus' claim was entirely different, as God-made-flesh he claimed to have defeated death. Notice the subtle difference: they cheated death, Jesus defeated it.
As they entered the tomb, they saw a young man dressed in a white robe sitting on the right side, and they were alarmed. "Don't be alarmed," he said. "You are looking for Jesus the Nazarene, who was crucified. He has risen! He is not here. See the place where they laid him. But go, tell his disciples and Peter, 'He is going ahead of you into Galilee. There you will see him, just as he told you.'" Mark 16:5-7
The atheist was right when he said resurrection was a common theme in ancient times, but he should have looked more closely at Christ's death before claiming it was no different than the deaths of other gods. Jesus' death was a willing sacrifice, an act of grace in its purest form. And his resurrection - with the resulting spread of the Good News - is truly one of a kind.
Publication date: April 10, 2013
Have something to say about this article? Leave your comment via Facebook below!
advertise with us
Example: "Gen 1:1" "John 3" "Moses" "trust"
Advanced Search
Listen to Your Favorite Pastors