A Luther-Lantern for Halloween
J. D. Wetterling , PCA News
Wednesday, October 31, 2001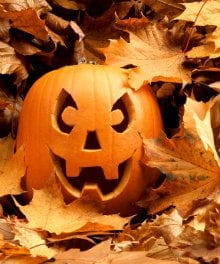 The first day of his trial Luther responded like a scared, almost crazy person to Eck's demand to repudiate his writings. He bobbed his head up and down and wrung his hands and asked in a barely audible voice for more time to consider. They gave him overnight—most assuredly the longest night in his life. It was up to him to decide whether to recant and live...or die in the most hideous manner society of the Middle Ages could devise.
Some members of the Diet, as well as many others, actually came to him that night and encouraged him to stick to his guns. Most secular rulers were sick and tired of the Church of Rome siphoning off all the money of their subjects. It left nothing for them to tax and their lifestyle suffered, but they did not have the nerve themselves to defy the Church of Rome.
Some of them were very excited about the possibility of the separation of church and state for the first time, and in Luther they saw the possibilities for that to become a reality...and it did. Hence, Carlyle's comment that it was the greatest moment in modern history. Distraught Brother Martin prayed and prayed. He said, "Amen," then prayed some more. "Help me, God. Help me, God. Amen. Help me, God. Help me, God."
The next day, April 18th, was his last chance, and Eck repeated his question in Latin, "Martinus, do you or do you not repudiate your books and the errors they contain?"
Martin Luther, standing behind a table piled high with his writings, replied in German rather than Latin, the mother tongue of all scholars and church officials. His response was short and concluded with:
Unless I am convicted by the testimony of Sacred Scripture or by evident reason...my conscience is captive to the word of God. I cannot and I will not recant anything, for to go against my conscience is neither right nor safe. Here I stand. I can do no other. God help me. Amen.
Emperor Charles V was shaken. He foresaw the very foundations of the existing social order crumbling if Luther was allowed to go unpunished and his ideas proliferate...and he was right.
Luther went unpunished by the church in spite of their best efforts, because his king, Frederick the Wise, arranged to have him "kidnapped" on his way home from Worms. Martin was taken to one of the king's cloud-shrouded mountaintop castles where he dressed in knight's clothes and went by the moniker, Junker Georg.
That long year might as well been spent in prison as far as Luther was concerned. His health suffered mightily there. He blamed it on bad beer (probably a correct assumption, but water was not safe to drink) and the devil. Luther had a highly developed sense of the devil and demons. He kept a bucket of walnuts by his bed at night to throw at demons in that cold, spooky old castle.
All of Europe was in such turmoil that Luther threw caution to the winds and came down off the mountaintop. Thus the reluctant monk from Saxony who loved life, loved to socialize with friends, sing and play the lute, was used by God to change the world. He was bombastic, as were his writings and he was usually his own worst enemy when it came to debate, but his sermons, hymns and writings electrified his age and every age since. And his theme was the heart of the gospel: "…the just shall live by faith" in Jesus Christ, the Son of God who takes away the sin of the world.
Every Maundy Thursday as long as he lived—28 more tumultuous years—Luther was number one on the pope's published excommunication list. Even on his deathbed at age fifty-seven an emissary of the pope was with Luther, asking him to his last breath if he would repent.
It is in honor of Martin Luther, man of God, that my October pumpkin is carved not with a ghoulish smile, but with the cross of my Savior, Jesus Christ, who died to give this unworthy eternal life. And it burns incongruously among the jack-o-lanterns of the night to tell the world that by faith alone here I stand at its foot. I can do other.
============
JD Wetterling is a PCA ruling elder and regular contributor to PCANews. He has just begun his service as Resident Manager of Ridge Haven, the Camp and Conference Grounds of the PCA.
For more articles like this, go to PCANews.
------------
Bibliography and suggested readings:

Luther, Martin, The Bondage of The Will, Translated by James I. Packer and O.R. Johnson, Revell Co., Tarrytown, N.Y., 1957.
Kepler, Thomas S., Editor, The Table Talk of Martin Luther, Translated by William Hazlitt, Baker Books, Grand Rapids, Mich., 1995.
Oberman, Heiko A., Luther, Man Between God and the Devil, Image Books, N.Y., N.Y., 1982.
Durant, Will, The Story of Civilization, Vol. 6: The Reformation, MJF Books, N.Y., N.Y., 1957.

Plass, Ewald M., This Is Luther, Concordia Publishing House, St. Louis, Mo., 1984.
Have something to say about this article? Leave your comment via Facebook below!
advertise with us
Example: "Gen 1:1" "John 3" "Moses" "trust"
Advanced Search
Listen to Your Favorite Pastors