Redeeming Halloween: The Fear-Not Party
Kim Wier & Pam McCune, Authors
Thursday, October 28, 2004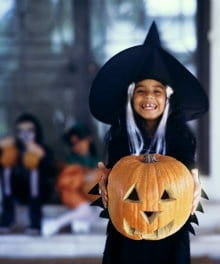 Once they are settled and quiet, tell the "scary story' you've chosen from one of the following resources. Be sure to choose a story that took place during the three hundred years of Roman persecution before Christianity was accepted. The story of Polycarp or the 40 Roman soldiers who froze on a lake are both examples of great "scary stories" that illustrate true Halloween heroes. Those stories and others can be found in:

"Jesus Freaks," Volumes I and II by dc Talk (Bethany House, 1999, 2002)
"Foxe's Book of Martyrs" by John Foxe (Zondervan, 1978), and "The New Foxe's Book of Martyrs" (Bridge-Logos, 2001)
"Heroic Faith and Extreme Devotion" by The Voice of the Martyrs (W Publishing Group, 2002)


At the end of the story, talk about how that hero was able to face his situation without fear because of his or her faith in God's strength and promises. Use Matthew 10:28 as an example: "Do not fear those who kill the body but are unable to kill the soul; but rather fear Him who is able to destroy both soul and body in hell" (NASB).
Talk about the biggest promise that a particular hero would have counted on; the promise of eternal life.
Assure the kids that they don't have to fear death, because that same promise has been given to us as well.
In simple and clear terms, explain the gospel.
We suggest that you give kids an opportunity to pray silently to receive Christ. If you do lead a prayer of salvation with which children could pray along silently, be sure afterward to ask them to tell you or their parents about the wonderful decision that they have made to trust in Jesus as their Savior.
End the story time by celebrating the fact that "perfect love casts out fear" (1 John 4:18, NASB) and that Halloween is really a holiday of faith, not fear.
* Invite kids to ask questions before they leave if they are confused by anything you said or if they are curious to learn more.
Remember that parents may be arriving to pick up their children before you story is finished, so have another adult waiting by the door, ready to invite them to the campfire and hear the story as well.
Saying Good-bye
When the party ends and you have said a closing prayer, thank the kids for coming.
There is not need to offer a party favor. (With Halloween on the way, they will soon be loaded down with candy.)
After the party, pray with your own children that the message their friends heard would help them to live a life of faith in Christ, not fear of the unknown.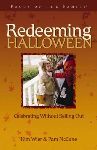 From "Redeeming Halloween," a Focus on the Family book published by Tyndale House Publishers. Copyright © 2004, by Kim Wier and Pam McCune. All rights reserved. International copyright secured. Used by permission.

Kim Wier has reached thousands with her message that God still speaks personally in the lives of ordinary people. Through her weekly newspapers column, she chronicles the hilarious ups and downs found on the road of everyday life. A popular conference speaker and radio co-host, Kim lives in Nacogdoches, Texas, with her husband, Tony, and their children, Chase, Bailey and Hannah.

Pam McCune has been impacting the lives of university women through her work at Campus Crusade for Christ for almost 20 years. A popular Bible teacher and conference speaker, Pam regularly leads women of all ages in the study of God's Word. Pam lives in Nacogdoches, Texas, with her husband, Jerry, and their children, Madison and Connor.



Have something to say about this article? Leave your comment via Facebook below!
advertise with us
Example: "Gen 1:1" "John 3" "Moses" "trust"
Advanced Search
Listen to Your Favorite Pastors