Social Justice through Storytelling in Les Misérables
Debbie Holloway, Assistant Editor, Crosswalk.com
Friday, December 21, 2012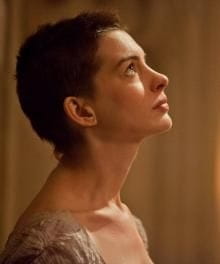 So how are we, as audience members, supposed to process such suffering and despair?
"Can you not see that to decide to do nothing is the most wretched of all decisions?" –Victor Hugo, Les Misérables
It is the message of Victor Hugo's novel, and the message of this new film, that action must be taken against poverty and injustice. Even if actions are insufficient, even if efforts fail, in good conscience we cannot sit around and do nothing. Especially not we who are citizens of the Kingdom God desires to bring about.
"Defend the cause of the weak and fatherless; maintain the rights of the poor and oppressed. Rescue the weak and needy; deliver them from the hand of the wicked" (Psalms 82:3-4).
Not only does Scripture exhort us to champion the causes of the weak, but God delivers warning upon warning to those who ignored this command:
"Woe to those who make unjust laws, to those who issue oppressive decrees, to deprive the poor of their rights and withhold justice from the oppressed of my people, making widows their prey and robbing the fatherless. What will you do on the day of reckoning, when disaster comes from afar? To whom will you run for help? Where will you leave your riches?" (Isaiah 10:1-3)
For of what worth is our wealth if our brothers and sister starve on the streets? Who will help us in our time of need if we have refused to help our less fortunate neighbors?
"Be present, know what you stand for in life, and face what is in front of you," reflects Hugh Jackman on what he has learned about life through playing the film's lead role, Jean Valjean.
The actors and filmmakers involved with Les Misérables decided to tackle the problem of global suffering and injustice by using the film as a vehicle for awareness and a call to action. As producer Cameron Mackintosh puts it, "If ever there was the people's musical, it's Les Misérables." Les Misérables is the voice for a woman like Fantine, whose youthful potential was cut short by a cruel, oppressive society which allowed no respectable means of living to a single mother. "This isn't an invention, this isn't me acting," explains Anne Hathaway of her role in the project. "This is me honoring that this pain lives in this world."
Anne Hathaway's research for Fantine included watching video clips of raids on brothels and interviews with prostitutes. One woman interviewed affected Hathaway profoundly. "'I come from a good family,'" she says the woman repeated over and over. "'We lost everything, and I have children, so now I do this.'"
Hathaway, heartbreak evident in her voice, asserts: "This woman deserves to have her voice heard."
"He has showed you, O man, what is good. And what does the LORD require of you? To act justly and to love mercy and to walk humbly with your God" (Micah 6:8).
Just like many churches today, the established church of Victor Hugo's day and age delivered a lot of fire and brimstone and a lot of exclusivity, according to Hugh Jackman's research. Hugo got in trouble for his criticism of the church, and it made him unpopular with many. But Hugo's great desire was to remind people of "the Jesus Christ example," explains Jackman, "which is to love people."
Christ laid out a simple, straightforward way to love people: we must not ignore the needs we see around us.
"Then the King will say to those on his right, 'Come, you who are blessed by my Father; take your inheritance, the kingdom prepared for you since the creation of the world. For I was hungry and you gave me something to eat, I was thirsty and you gave me something to drink, I was a stranger and you invited me in, I needed clothes and you clothed me, I was sick and you looked after me, I was in prison and you came to visit me.'
Then the righteous will answer him, 'Lord, when did we see you hungry and feed you, or thirsty and give you something to drink? When did we see you a stranger and invite you in, or needing clothes and clothe you? When did we see you sick or in prison and go to visit you?'
The King will reply, 'I tell you the truth, whatever you did for one of the least of these brothers of mine, you did for me.'" (Matthew 25:34-40).
Debbie Wright is Assistant Editor for Family Content at Crosswalk. She lives in Glen Allen, Virginia and is an avid writer, reader, and participant in local community theatre.
Publication date: December 23, 2012
Recently on Les Misérables
Have something to say about this article? Leave your comment via Facebook below!
advertise with us
Example: "Gen 1:1" "John 3" "Moses" "trust"
Advanced Search
Listen to Your Favorite Pastors