The Profile of a Godly Mother
John MacArthur
Monday, April 25, 2011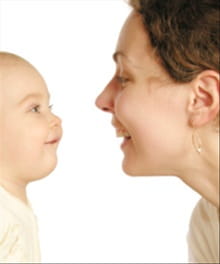 That emphasis on marriage was very evident between Elkanah and Hannah. They were dedicated to the faithful worship of God (1:3), and they were dedicated to loving one another (1:4-8). Their situation-being unable to have children together-was like an open wound. But it was an experience that drew out of Elkanah tender expressions of love for his wife.
At a particularly low point in Hannah's discouragement, Elkanah comforted his wife with these words: "Hannah, why do you weep and why do you not eat and why is your heart sad? Am I not better to you than ten sons?" (1:8). That may not seem like a tremendous comfort to you, but he was appealing to the satisfaction they enjoyed in their marriage. Notice the effect: Hannah was encouraged-she started to eat and drink again (1:9), and she went to the temple to seek the Lord (1:9-11).
That's the kind of marriage to which a godly mother is devoted-dedication to loving God, dedication to loving one another. That's the soil where godly mothers grow and flourish.
Devoted to Her God
Hannah struggled through acute pain and adversity. She was barren, she had to share her husband with another woman-one who could produce children, and she had to endure the pain of that woman's cruelty (1:6-7). And though Hannah was tempted to despair (1:8), she received the encouragement of her husband, turned to the Lord, and poured out her heart to Him in humble devotion (1:9-18).
Like many women today, Hannah struggled with the pain of infertility. She wanted God's best, to be a mother. In her sadness, Hannah didn't complain to her husband-there was nothing he could do about it-and she didn't fight back when Peninnah tormented her. Instead, Hannah trusted God through prayer.
That's a beautiful characteristic. She understood that God was the source of children, that God alone could alter her sterility. Her distinctive virtue was her constant faith. First Samuel 1:12 says, "It came about as she continued praying before the Lord". Her prayers were constant. She stayed there praying with a broken heart, pouring out tearful prayers. Hannah knew where to go with her problems.
Hannah was quite different from many today who long for children; she wasn't seeking a child for her own fulfillment. Childless parents today spend millions on infertility treatments-medications, special diets, egg-harvesting, even in-vitro fertilization. They worry and fret and sin in their continued anxiety.
Not Hannah. Hannah was willing from the start to give the child back to God, for life (1:11). It wasn't about her. It wasn't about getting what she wanted. It was about self-sacrifice, giving herself to that little life to give him back to the Lord. After coming to that place in her heart, after expressing her desires to the Lord in prayer, she experienced the peace of humble devotion to God. She "went her way and ate, and her face was no longer sad" (1:18).
Devoted to Her Home
According to His perfect will, God gave Hannah a son - Samuel.
And Elkanah had relations with Hannah his wife, and the Lord remembered her. It came about in due time, after Hannah had conceived, that she gave birth to a son; and she named him Samuel, saying, "Because I have asked him of the Lord." (1:19-20)
Hannah named her son in remembrance of God's goodness, and she devoted herself to her motherly responsibilities-she was fully committed to her home. The time came for one of the annual trips to Shiloh, and Elkanah came to Hannah to prepare her for the trip.
Then the man Elkanah went up with all his household to offer to the Lord the yearly sacrifice and pay his vow. But Hannah did not go up, for she said to her husband, "I will not go up until the child is weaned; then I will bring him, that he may appear before the Lord and stay there forever."
Have something to say about this article? Leave your comment via Facebook below!
advertise with us
Example: "Gen 1:1" "John 3" "Moses" "trust"
Advanced Search
Listen to Your Favorite Pastors