7 Secrets of a Long and Satisfying Marriage
Rebecca Barlow Jordan
Monday, February 11, 2013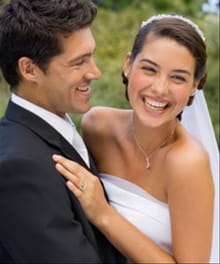 After four decades of marriage, my husband and I could probably sum up the secret of a long and satisfying marriage in three words: God's amazing grace. Regardless of how long you've been married, I've listed some additional secrets below that might be helpful. No, these secrets are not necessarily our secrets, though we've tried to incorporate them into our marriage relationship. Like you, we're still learning.
But as marriage enrichment leaders through the years we've had the privilege of working with many couples. And in his ministry position, my husband has had the opportunity to counsel and help numerous couples.
What makes a marriage flourish? This list is not exhaustive, but here are seven secrets of a long and satisfying marriage that we've observed through the years: (If you've been married over 20 years, I'd love to hear your thoughts on what makes a marriage last. You can do so at the end of this blog).
1. Build your marriage on the right spiritual foundation, with Christ as the center.
This includes a respect for each other and submission to God. Couples with mutual faith and spiritual goals who pray together do tend to stay together (Ephesians 5:21, NASB). But seek first the kingdom of God and His righteousness, and all these things shall be added to you (Matthew 6:33, NKJV).
2. Seek to understand and appreciate the God-given differences and uniqueness of your spouse.
Couples can spend a lifetime of fruitless, unhappy years trying to change each other to mirror their own personalities instead of celebrating and being grateful for their differences. Men and women are different. In addition, your spouse's strengths (that you might call irritations) may be the very tool God wants to use to compliment your weakness in that area. You made all the delicate inner parts of my body and knit me together in my mother's womb. Thank you for making me so wonderfully complex (Psalms 139:12-14, NLT). Love does cover a multitude of flaws! (1 Peter 4:8, NASB).
3. Draw the right conclusions about the things that happen to you and your marriage.
Recognize the lies, "It will always be this way;" "Things will never change;" or "I married the wrong person," and make a mutual commitment to work on difficult issues that may arise. Search me, O God, and know my heart; test me and know my anxious thoughts. Point out anything in me that offends you, and lead me along the path of everlasting life (Psalms 139:23-24, NLT). Romans 8:28 is another great principle to help you keep the right perspective.
4. Continually practice communication that includes talking–and listening–with a genuine effort to understand.
Practicing "fast-food" communication helps. Think about talking with your spouse like the cashiers do on the microphone when you're in line at a fast-food restaurant. They repeat your order back to you until they (hopefully) get it right. James 1:19 is a great rule of thumb. Taking the time to truly understand your mate by "drawing out" their thoughts takes it a step further: Counsel in the heart of man [woman] is like deep water, But a man [woman] of understanding will draw it out (Proverbs 20:5, NKJV).
Recently on St. Valentine's Day
Have something to say about this article? Leave your comment via Facebook below!
advertise with us
Example: "Gen 1:1" "John 3" "Moses" "trust"
Advanced Search
Listen to Your Favorite Pastors