God's Valentine
Jan Shrader, Preach It, Teach It
Tuesday, February 14, 2012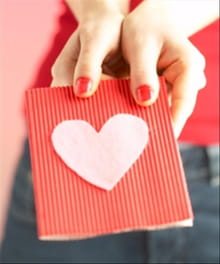 In verse 17 we see that Jesus was not sent to the earth to condemn the world, but to save her. Condemnation has to do with sins not paid for. It is interesting that Jesus did not come to condemn men and women, but John goes on to say in verse 18 that those who do not receive this valentine feel condemned already. They know their works are evil and even though Jesus did not come to condemn them they feel condemnation because of their sins. Look again at verse 18, "Whoever believes in him is not condemned, but whoever does not believe is condemned already, because he has not believed in the name of the only Son of God."
When we accept the gift of God found in Jesus we experience God's forgiveness of our sins. We experience God's rest from feelings of condemnation. Without God's forgiveness we are left with our guilt and the knowledge we deserve God's judgment. In verses 19-20 the gospel writer changes the metaphor he uses to describe Jesus. First Jesus was a gift in verse 16, now John describes Jesus as the light. Look again at verses 19-20, "And this is the judgment: the light has come into the world, and people loved the darkness rather than the light because their deeds were evil. For everyone who does wicked things hates the light and does not come to the light lest his deeds should be exposed."
Lastly we come to verse 21 which explains how Valentine and the early church martyrs were able to forgive their oppressors. "But whoever does what is true comes to the light, so that it may be clearly seen that his deeds have been carried out in God." Everyone who does a truly good deed is happy to show that the strength to accomplish this deed comes from God. They don't want to take credit for something only God could do. Those who receive God's valentine, Jesus, are filled with God's love and that love begins to do sacrificial acts just as Jesus would do. Those who reject God's valentine will feel condemnation, not because Jesus came to bring condemnation, but because they feel guilt over their sins. God in love wants us to experience his love and forgiveness; his peace and his rest. Jesus did for us what we were unable to do for ourselves. His sacrificial death on the cross and our faith in that sacrifice secures for us a place at God's side in heaven and enables us to live out our days on earth for the name of Christ. On this Valentine's Day let me encourage you to open your heart to the greatest valentine ever given, the Lord Jesus Christ. Those who believe in him will experience eternal life and will receive the ability to forgive like God forgives.
Recently on St. Valentine's Day
Have something to say about this article? Leave your comment via Facebook below!
advertise with us
Example: "Gen 1:1" "John 3" "Moses" "trust"
Advanced Search
Listen to Your Favorite Pastors