Caring for the Orphans
Janet Thompson, Founder of Woman to Woman Mentoring
Monday, November 18, 2013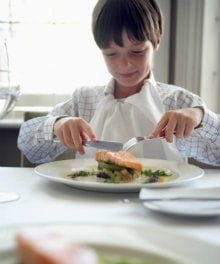 "Pure and genuine religion in the sight of God the Father means caring for orphans and widows in their distress and refusing to let the world corrupt you" (James 1:27 NLT).
A baby—precious, fragile, helpless, dependent, sweet, needy, and full of potential—without a family is destitute, institutionalized, alone...heartbreaking.
Any child at any age without a home, without a family, without love is heartbreaking.
James 1:27 tells the church and every Christian that it isn't enough to feel sad or compassionate about an orphan. The very foundation of our faith says we will take care of them. I have to think that when God uses the term "caring for orphans," he means more than putting them in orphanages and the foster care system—he means they are the personal responsibility of the church.
National Adoption Awareness Month
November has been designated National Adoption Awareness Month, and specifically this year, November 23 is National Adoption Day. Eight years ago, my family became a "forever family" to my precious grandson, Brandon, and he became legally ours in a courtroom on National Adoption Day. We can't imagine our family without Brandon, and I try not to focus on what his life would have been like had his teenage mother not put him up for adoption—or even worse—had she availed herself to a morning after pill or aborted her baby or left him on a doorstep. I'm still in awe and wonder that God bestowed such a precious gift to our family— baby Brandon.
God's Plan A
Today 1 in 6 couples struggle with infertility, but with advances in infertility treatment, adoption is not always considered a viable option, or maybe considered as a Plan B when all else fails. My daughter Kim and her husband Toby, Brandon's "forever parents," struggled for years with infertility and, then, felt God calling them to a "ministry of adoption." Many of you may have felt that same call to adopt a child into your family and have experienced the joys and blessings of "caring for the orphans." It was never meant to be Plan B, it's always been God's Plan A. But my daughter stresses that a couple shouldn't consider adoption until they can look at it as God's plan for them becoming a family or adding to their family.
Adoption blesses the adopted family, the adopted child, and the birth mom.
God's Plan for Orphans Is Not Just for the Infertile
In the Bible, God talked openly, and often, about orphans and the responsibility of the church to take care of them. Many churches today focus on caring for other nation's orphans, which is admirable. But what about the orphans in their own communities and in the overflowing foster care system?
It is an awesome thing to have your family sponsor a child through Compassion International or one of the other Christian organizations that help indigent children in foreign countries, but it's also our calling to do something up close and personal for a child without a family in our country.
One of my son-in-laws regularly visited the local county orphanage to play with the children. Sadly, the foster care programs today are overflowing with children who need a loving, Christian home and parents. What is your church doing to help? What are you doing? What is your family doing?
Facts from The Congressional Coalition on Adoption Institute Website
Have something to say about this article? Leave your comment via Facebook below!
advertise with us
Example: "Gen 1:1" "John 3" "Moses" "trust"
Advanced Search
Listen to Your Favorite Pastors